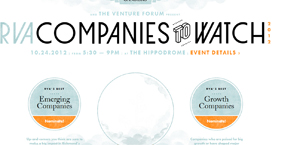 Ten local businesses will take center stage next month at the annual "RVA Companies to Watch" event, an annual evening celebrating entrepreneurship that used to be called "Greater Richmond Companies to Watch."
Nominations are open through Friday, Sept. 14, for the categories of emerging businesses and growth companies.
The event will be Oct. 24 at the Hippodrome Theater. A panel of venture capitalists and entrepreneurs will pick the top 10. Tickets are $25 for Venture Forum members and $50 for the general public.
New ventures without any capital and established companies seeking to expand should apply, said event spokeswoman Jessica Barnes.
"We're basically looking for new companies we expect to make a big impact in the Richmond market," Barnes said. "This is a great way for new businesses to get their name out in the area, especially ones who are still looking for investors."
In addition to using the more hip "RVA" identifier in place of "Greater Richmond," the event is also promoting a "no need for coat and ties" policy.
Barnes, a senior resources consultant with Vaco, said the more causal atmosphere at the event should encourage conversation between business people and venture capitalists.
For more information about the event or to nominate a company, go to the event's website.
Click here for a list of the companies honored last year.