Two Richmond restaurateurs are taking a swing at the sports pub niche.
Jeff Ottaviano, founder of the Wine Loft in Glen Allen, and Chad Hornik, who owns 10 Melting Pot restaurants, launched 250 Sports Grill in late July. The restaurant served its first customers during the opening ceremony of the Olympics, and Ottaviano said word about the establishment is starting to spread.
"We've already seem some good crowds during happy hour, and it's been busy on Friday and Saturday nights," Ottaviano said. "We have a mix of families who come in earlier and then the bar crowd in later."
The bar and grill is located off Oilville Road on Highway 250 — hence the name. The menu features surprises such as fried alligator bites and fish tacos with a Sriracha aioli. Hornik calls it elevated pub food.
"We like to say it's surprisingly good food," Hornik said. "You're not going to find a $40 steak here, but it's not typical bar and grill food."
By renting out a space already equipped with major kitchen appliances and seating, Hornik and Ottaviano managed to open 250 Sports Grill for less than $100,000. A group of five partners, including Ottaviano and Hornik, covered the costs out of pocket to avoid bank loans.
"It's very difficult to get a loan for the half million dollars it would take to open a place from scratch, so we wanted to take advantage of existing infrastructure," Ottaviano said.
So far, their biggest expense has been providing content for restaurant's 18 televisions. Last month, the owners paid about $3,000 for a cable package to broadcast every NFL game. Ottaviano said the grill also plans to show college sports and NBA, MLB and NHL games. When a major sporting event happens overseas, he said the restaurant will open for breakfast to show it live.
"Sometimes it seems like our DirecTV bill is higher than our rent," Ottaviano said. "But it's just part of the cost of doing business if we want to offer great sports."
Ottaviano and Hornik both come from fine dining backgrounds.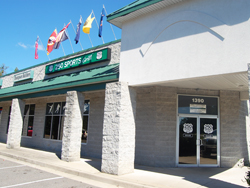 After a 15-year stint as a commercial airline pilot, Ottaviano said he wanted a change. He thought about his first job — making and delivering pizzas — and decided to pursue a career in the restaurant industry. He opened the Wine Loft three years ago and commutes to both locations every day.
"At this point, I really just need a car with better gas mileage," he said.
In college, Hornik waited tables at the Melting Pot, a national chain of fondue restaurants. A year later, he bought his first of 10 Melting Pot restaurants. He said starting a completely new restaurant was a different experience from opening a franchise.
"If you need new menus at the Melting Pot, you call a corporate number and they'll send them to you," Hornik said. "Here, we had to design all that from scratch."
Ottaviano and Hornik settled on green paint, metal wall panels and floor-to-ceiling sports gear for the grill's look.
Ottaviano said he's already eyeing a second location in Innsbrook and hope to expand even further.