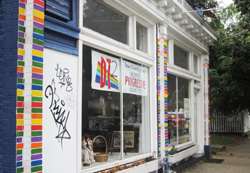 A thrift shop on Main Street is closing after two years in business.
DT2, a spinoff of Diversity Thrift near the Diamond, will close at the end of September when its lease expires, said Bill Harrison, executive director of the Gay Community Center of Richmond nonprofit that operates the business.
"We never lost money with DT2, but were just not making enough money to justify keeping it open," he said. "The level of effort just wasn't worth it. We collect the items at the main building, sort them and truck them across town. Then it took people to run the store. A lot of work was going into it for small returns."
Harrison also cited issues with parking and signage (his sign was blocked by a tree in front of his storefront) as reasons to shut down. Additionally, Harrison said, a survey showed that the customers at both Diversity Thrift locations were largely the same, meaning the organization wasn't reaching a new audience.
Bandazian and Holden are the landlords for the space. Nathan Hughes, a broker with the firm, said the building had some challenges.
"It's a tough space," he said. "I've had some people approach me wanting to do a restaurant in the space, but you probably can't do it in there, because there isn't the parking."
Hughes said there are a handful of spaces in the back but not enough to support a full restaurant on the 5,700-square-foot parcel.
"I think some small retail would work there or even office," he said.
Hughes said the rent is about $1,600 per month after taxes.
BizSense reported in March that the Gay Community Center had put its 50,000-square-foot building at 1407 Sherwood Ave. up for sale.
Harrison said that the center's contract with Thalhimer, who was representing the space, expired in June and that the organization's board would discuss how they want to proceed with the sale.