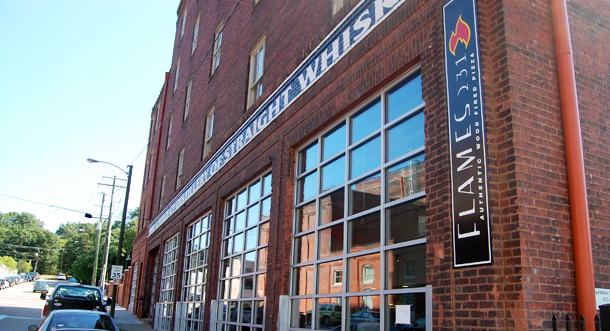 After combing Richmond for 22 years in search of a wood-fired pizza like the ones he grew up with in Italy, Daniel Taormina took matters into his own oven mitts.
Along with his nephew Giuseppe Taormina, Daniel Taormina last week opened Flames 231 in Shockoe Bottom. The restaurant offers traditional Italian pizzas, appetizers and wines.
"These are simple recipes — what we used to eat back home," Taormina said. "We didn't invent anything here."
Taormina moved to Richmond from Palermo, Sicily, in 1990. He hopped the pond to help his uncle run a restaurant and stayed in the industry. With the help of his nephews, Taormina launched Brunetti's Express, two pizza places in Mechanicsville.
The fast food joints kept the family occupied, but Taormina said he always wanted to open a more upscale restaurant. He got his chance two years ago, when a real estate agent approached him about renting space at 423 N. 18th Street.
Taormina had his hands full, but he kept the building in the back of his mind. In November, Daniel and Giuseppe Taormina decided to rent the property and started developing plans for Flames 231.
"When I saw the location, I just fell in love with it," Daniel Taormina said. "And then as I started learning more about all the history, it just blew me away."
In the late 1800s, the building was used to store seed for local farmers. It was later converted into a whiskey distillery and cold storage unit. Flames 231 will be the first restaurant to occupy the space, and Taormina said maintaining the historical integrity of the building was a challenge.
"I had a lot more hair before all this started," Taormina said. "You can only change so much with the aesthetic of the building."
The owners kept the original structure intact and plan to display whiskey bottles from the old distillery. The name — a reference to a train that crashed and is entombed in the Church Hill Tunnel behind the building is another nod to the site's past.
Taormina said he preferred not to talk about how he financed the renovation but said the restaurant was "financially healthy" by opening night.
"We're debt free right now, and we'd like to keep it that way," Taormina said.
Giuseppe Taormina will run the kitchen and the back of the house. He said he wants the place to be known for simple, high quality pizza at an affordable price.
Daniel Taormina said he remembers spending time at his family's summer house in Italy. The house didn't have running water or gas, and they made their food from scratch.
"This pizza brings me back to those times," Taormina said.