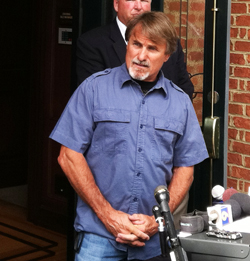 Mark Lovell has his work cut out for him.
The laid-back, motorcycle-riding Tennessean, who often calls people "ol' buddy," gambled $6 million at an auction in Caroline County last May. He now owns the State Fair of Virginia and its 331-acre property, Meadow Event Park.
Lovell and his company, Memphis-based Universal Fairs, are racing to resurrect the State Fair and put on a show in time for its Sept. 28 to Oct. 7 run.
Lovell, 54, has built an entertainment empire. He owns the Georgia State Fair, the Delta Fair and Music Festival in Memphis, the King County Fair in Washington state and a fair in Arizona. His company also has contracts to run fairs in other areas.
Lovell made waves in Richmond last year when, after watching the bankrupt State Fair of Virginia collapse, he announced his intentions to start his own fair here.
BizSense caught up with Lovell to talk about the risk he took on the property and how he plans to make sure it pays off.
RBS: How'd you get into the fair business?
Mark Lovell: I was in the dry-cleaning business, and my cousin ran a boat show. I traded my dry cleaners for the rights to the boat show back in 1992 and [started promoting] hunting shows and boat shows. In 2005, I went to local fair in Memphis, and I didn't like it. So I started my own fair, and away we went.
Richmond BizSense: So the fair is back on. How are things coming along?
ML: Much smoother than I anticipated. We have some good music lined up, some great free attractions, and our arts and crafts competition is coming along. Bleachers and picnic tables — we're trying to get [them] in here in time. And we have a lot of grass to mow. But we're in the business to make stuff happen.
RBS: Do you think there's any lingering confusion about whether the fair is still being held? Could that affect attendance this year?
ML: Just going around to local restaurants and businesses, I've heard that some people thought the fair wasn't going to be held. We're here to dispel those rumors. As much publicity as all the foreclosures got from all the media outlets, some people still just didn't hear all that. We're on. The fair is on.
RBS: What was going through your mind after spending all that money at the auction?
ML: I was a little bit nervous when I first bought this thing. I about OD'd [overdosed] on chocolate. I was nervous that we were racing against the clock. The State Fair of Virginia is a big production. It was definitely a great buy. You've got a beautiful piece of property, lights, roads, parking lots and an exhibit hall. It definitely was worth the $6 million.
RBS: How long do you think it will take to recoup your investment?
ML: I don't know. I haven't really thought about it. It's a 365-day-a-year deal. We've booked consumer trade shows already: the Virginia Home and Garden Show, fishing shows, gun shows. We have a monthly flea market starting the third weekend of October.
All that will hopefully generate revenue that will help run this property. It's going to cost somewhere around $1.5 million to run this place each year. The state fair is definitely the largest single event. It helps service the debt we have. This property is massive, and it's laid out pretty well, so there are many different opportunities. But right now we're focusing on putting on a great fair. Then we'll have some time to take a breath.
RBS: How many attendees do you need for a successful fair?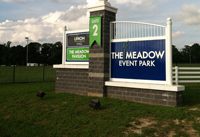 ML: I'd like to see 250,000. My goal is 300,000 — that's my realistic attainable goal. My goal is to make this one of the top 50 fairs in the country. I think we can do it in the next three or four years. We want it to where people can come and be razzled and dazzled and entertained.
RBS: A while back, you mentioned trying to hold a multi-day music festival on the grounds. Has that idea gone anywhere?
ML: We're in the planning stages on that. Sometime in May or June of next year, we'll do a three-day music festival. We're trying to study what genre of music would work well. We have a big old piece of property for camping. We'll put it together ourselves.