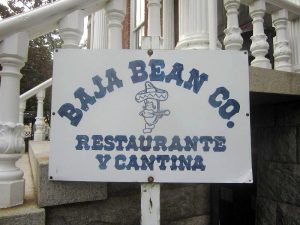 The landlord of a popular restaurant in the Fan is looking to spruce the place up and make way for a new tenant.
John Conrad, a lawyer who owns the Stonewall Jackson Professional Center at 1520 W. Main St., won't renew Baja Bean Co.'s lease when it ends next October and is marketing the space for a new tenant.
Ron Morse, owner of Baja Bean Co., said that he was not pleased to have to leave his Main Street location but that the business will stay in Richmond. Morse also owns Baja Bean locations in Charlottesville and Staunton.
"We've been looking at other spaces on Main Street and calling some restaurants that we've been hearing are not doing well," Morse said. "We're not going to find anything exactly like what we've got, because there's no space like it."
Baja Bean Co. opened in Richmond in 2000, Morse said, and sales have been strong in the past two years.
"We've been here for more than 11 years, and we've been doing incredibly well," Morse said. "Last year we had a record year."
Morse said he's been paying about $9,000 per month in rent for the 10,300-sqauare-foot space, which is based on a percentage of sales. The space includes 7,800 square feet on the ground floor of the property and a 2,500-square-foot outdoor patio area.
Conrad said in an email that he had nothing personal against Baja Bean.
"Although Baja may not be happy about having to move next year, we have no ill will toward Baja Bean and we have given Baja plenty of notice so that they can find other space," Conrad wrote. "However, Baja Bean needs to move at the end of its lease so that we can redevelop and physically improve the courtyard outside as well as the entire first floor."
Conrad said that the space's zoning allows for a variety of uses and that there might be more than one business going in the space.
"We intend to explore a number of retail uses as well as restaurant operations before we reach any conclusion about exactly what uses we place in the first floor," he wrote.
The Richmond Baja Bean location got some high-profile exposure in May when President Obama kicked off his reelection campaign at Virginia Commonwealth University. "The Daily Show with Jon Stewart" sent a correspondent to gauge the enthusiasm of young voters.