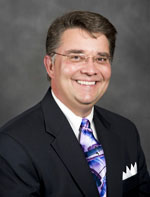 Robert Taylor is about as VCU as it gets.
Taylor, head of the school's Virginia Real Estate Center, received his bachelor's and master's degrees from the university's business school.
Before coming back to his alma mater, Taylor, 51, spent most of his 25-year career as an appraiser with Henrico County and in the private sector.
Taylor is leading the effort to prepare for the ever-growing annual VCU Real Estate Conference, which is taking place this year at the Richmond Convention Center on Oct. 9.
BizSense caught up with Taylor last week to talk about the conference, the student housing sector fueled by VCU's growth and what he's seeing in the local commercial real estate market.
Richmond BizSense: How long has VCU been holding the Real Estate Conference?
Robert Taylor: This is our 22nd year of the conference. When we started in 1989, it was with less than 100 people. This year we're expecting more than 1,000 people. We've outgrown four different venues.
We draw speakers who usually don't come to Richmond, so we'll get a unique perspective on the national and international market. But we also have some great local speakers, so we can really drill down and see how it affects the local economy. You can see a list of the speakers here.
RBS: We often hear about your program from brokers and other real estate types. How do you keep those connections to the local marketplace?
RT: We have a lot of alumni, both of our undergrad and graduate programs, still working in the area.
Technically, real estate is not its own school. We're part of the business school and the Department of Finance, Insurance and Real Estate. We offered our first course on real estate in the late 1950s.
We are one of only a handful of programs in the country that offers a bachelor's in real estate and the only one in Virginia.
RBS: Who are some of your alumni working in the Richmond area?
RT: There are too many to name them all, and I'm afraid of forgetting someone. But Jeff Kornblau at Eagle Construction of Virginia is an alum. Steve Brincefield at Thalhimer's property management group is an alum as well. Really, the list goes on and on.
And what's really cool is that the program has been around so long and is so well established that we're starting to accept second-generation students into it. Ed Knight of Knight Dorin and Roundtrey is an alumnus, and his son is now in the program.
RBS: What are some of the cool projects you worked on before you transitioned to academia?
RT: The one that stands out for me was being on a team that did the assessment of the Newport News shipyard. It was an interesting thing to figure out how much a shipyard is worth.
RBS: When you look around Richmond today, you see a lot of developers working on multifamily apartment projects. What is the net effect of these projects?
RT: Well, clearly there is a change in demand for other types of services in the area. Look at Rocketts Landing, for example. You now have restaurants in the area that are attractive both to the residents and to those outside the development.
In Shockoe Bottom, you can see some of the same things if you look at some of the smaller retail that has occurred. Whenever you add residents to an area you are going to have a need for services.
RBS: Can one development — such as the Interbake factory — transform an area and significantly affect the surrounding property values?
RT: Let's look at Short Pump Town Center for a second. It's not a stretch to say that project spun off all kinds of satellite development in the area. But that's a major, super-regional mall that attracts not only residents of the Short Pump area but people from 100 miles away.
It's difficult to say that if you add "X" number of residents it will have a major effect on a specific area. It really depends on what type of demand there is for supporting services. Will those residents have cars? If so, they can quickly get over to Carytown or Willow Lawn for groceries and the like. So it really all depends.
One thing that I think would spur some development is if the Redskins practice fields go in there behind the DMV. I think that would increase demand for related development like sports retail and restaurants.
RBS: VCU has certainly spun off its share of satellite development in the area. Is there really a need for all the student housing that's springing up?
RT: I can't say that I've studied the number of students versus the number of available dorms and student housing units to say definitively that the need is there or not.
But what the student housing projects are doing is catering to the demand of the market. When you have high-end housing on the market for students, it makes the older units less competitive, whether that's the dorms or other types of student housing.
For example, some of the dorms don't have washers and dryers in the units. In the dorms of yesteryear, you had to go down the hall or in the basement. Newer products come online, they are more competitive, and the older student housing sometimes become less competitive.
RBS: So it's about competition then, rather than filling a need.
RT: Yes, it's about choices. If I'm a student, do I want to be in this dorm versus that dorm? I'm willing to pay a little bit more for this dorm to get these amenities. You do that with all real estate.