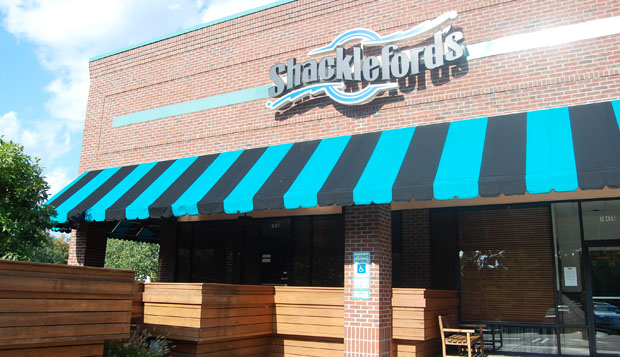 A West End seafood restaurant is shutting its doors after almost 20 years.
A. Kirk Poore, president of Shackleford's, announced last week that the restaurant and raw bar would close Oct. 29. Poore said he made the decision to spend more time with his wife and two children.
"This was really a personal choice," Poore said. "I'm going to take some time off to be with my family, go through this transition and figure out what's next for me."
There remains some hope that the Shackleford's name will live on at its location in the Gleneagles Center in Glen Allen.
Poore leases the space on Ridgefield Parkway from Blackwood Development Company. He said a few interested parties have approached the broker about buying the restaurant, although nothing is set in stone.
"It would be nice if we could find a buyer who kept the name and business the same, but we're not sure at this point," Poore said.
He said he made the announcement early to give the restaurant's 40 employees a chance to find new jobs, should no one buy the business.
"The staff here has been like family to me," Poore said. "We also have great relationships with our customers, and this will give us the chance to say thank you to everyone."
Poore opened the West Broad Village Shackleford's in 1993, and it is the last of the three original locations. The other two, one in Chesterfield and one in Williamsburg, closed in 2010.
Poore said that business has been steady but that it's getting harder and harder to compete with corporate chain restaurants that offer lower prices.
"It's not 2000 anymore, that's for sure," Poore said. "People aren't eating out like they used to, and on top of that food costs are up. I think in the future it's going to get even more difficult for mom-and-pop places to compete."