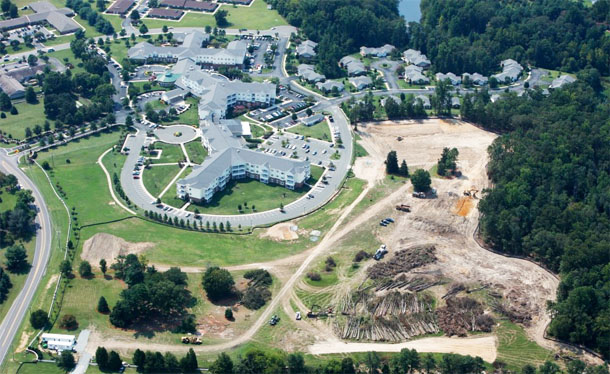 A Mechanicsville retirement community is set to double in size by the end of 2014.
Covenant Woods broke ground Aug. 1 on a $78 million expansion. The project will be financed through tax-exempt bonds issued by the economic development authority of Hanover County.
This will be the largest construction project to date for the not-for-profit retirement home, said marketing director Beth Richardson.
"The board of directors looked at what we needed to do to keep up with the market," Richardson said. "We're hoping these additional amenities will be looked on favorably by the baby boomer population."
Covenant Woods provides housing and health care to people ranging in age from 62 to 102. The organization launched 1883 — when it was known as the Richmond Home for Ladies — and moved to its current building in 2001.
The existing 250,000-square-foot facility is broken up into two parts: a main building with 104 apartments and 29 separate cottages. The main building also includes dining and recreational facilities.
The expansion will add 84 apartments to the main building and 22 cottages. That's enough housing for up to 212 new residents, Richardson said.
Two additional dining venues, a fitness center, a spa, a saltwater pool and a library are also planned for the new space.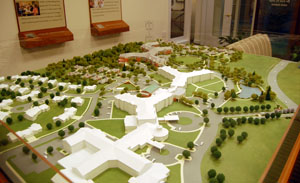 About 70 of the new apartments have been booked for 2014, Richardson said. To reserve a room, potential renters put down a 10 percent deposit on the facility's entry fee, which starts at $250,000 for a single unit. Once they move in, residents pay a monthly fee starting at about $3,200.
After the addition is complete, Richardson said Covenant Woods would take up almost the entire 75-acre plot of land the facility owns. Right now the main building and cottages use about 22 acres.
"This is about as far as we can go on this piece of property," she said.
WM Jordan, a firm based in Newport News, will handle the construction. Roanoke architecture firm SFCS designed the project and was paid $1.3 million, according to tax documents filed with the IRS.
The 228,936-square-foot expansion will be financed through tax-exempt bonds issued through Hanover County. Richardson said the board decided bonds would be the most efficient financing route because of the scope of the project.
The facility has not settled on an investment bank to handle the bond sales, Richardson said.
Until the bonds begin to sell, Covenant Woods will pay the construction costs out of pocket. For the fiscal year ending March 31, 2011, Covenant Woods brought in $13.4 million in revenue, with almost all of that going to expenses.
William Derry, a lawyer at Troutman Sanders who serves as the bond attorney for the Hanover County Economic Development Authority, said the county has issued similar bond packages to nonprofits in the past to reduce their borrowing costs.
"This type of borrowing allows nonprofits to provide services to county residents at lower costs than they would on a conventional basis," Derry said.