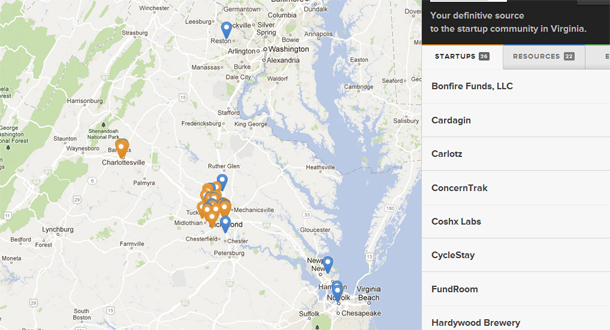 A new website is putting Virginia startups on the map — literally.
Five local entrepreneurs recently launched StartVirginia, a map-based site that aims to connects startups with resources such as angel investors and potential employees.
Any Virginia business that's less than five years old can post to StartVirginia. The site displays basic information about companies and lets users know which ones are hiring.
It's an easy marketing tool and a good resource for anyone looking to land a job with a startup, said Remo Kommnick, one of the site's developers and a recent graduate from the University of Richmond.
"We thought this was something really overdue in the Richmond area," Kommnick said. "There are already maps like this in L.A., in Baltimore. But no one has done it on a state level."
StartVirginia also lists information about upcoming networking events and investment firms around the state.
A beta version of the site launched three weeks ago, and about 40 startups are already listed, Kommnick said
Kommnick, AC Capehart, Paul Venuto, Justin Kauszler and Mat Dellorso came up with the idea and developed the site during Richmond Startup Weekend. That event let anyone with a startup idea pitch a prototype to a panel of judges.
"It was a 54-hour marathon," Kommnick said. "I've heard it compared to condensing two years of business school into one weekend. I went to business school, and I definitely agree with that."
The team developed the basic site during the weekend event, but they're still working on a few functionality enhancements, Kommnick said. They want to have search and sort functions, an email alert system and enhanced graphics.
The ultimate goal is to partner with local governments or universities to provide the most comprehensive list of startups in the state, Kommnick said.
"This is really just a resource for the community," he said. "We aren't looking to monetize it in any way."