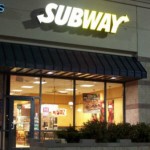 In the battle for fast eats in Richmond, Subway wins the day.
Nation's Restaurant News, an industry trade publication, published a list of the top fast food restaurants in the Richmond market, putting Subway at the top of the food chain with 97 locations in the area.
McDonald's took second place with 63 locations and Starbucks was third with 51 locations.
The rest of the list shaped up like this:
Burger King: 39 locations
Wendy's: 35 locations
Hardee's: 28 locations
Pizza Hut: 28 locations
Domino's Pizza: 25 locations
Arby's: 22 locations
KFC: 22 locations
The Wall Street Journal reported in March that Subway had scooted past McDonald's as the No. 1 fast food chain as measured by number of locations worldwide.