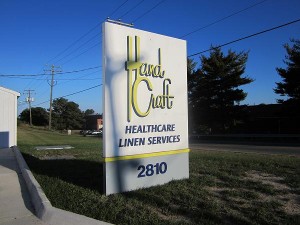 One of Richmond's biggest industrial laundry businesses wants to get bigger, and now it has the real estate to do it.
HandCraft closed this year on a 146,000-square-foot building at 2828 Cofer Road in Richmond, across the street from the company's current building.
The $1.5 million purchase is about 26,000 square feet larger than its neighboring building at 2810 Cofer Road in the Southside industrial section of the city near the VA Hospital.
"We're not ready to say exactly what we want to do with the building, but it's for future expansion," said Jay Nichols, principal at HandCraft.
The company started in 1956 as a dry cleaner and operates five dry-cleaning locations, mostly in the West End. But the company has shifted largely to the industrial cleaning side of the business.
"Dry cleaning is about 6 percent of our business," Nichols said. "The other 94 percent of the business is in the health-care linen business."
HandCraft serves dozens of hospitals in five states by cleaning and distributing hospital linens. Clients include Bon Secours, HCA and the University of Virginia.
The company has 265 employees and 35 trucks.