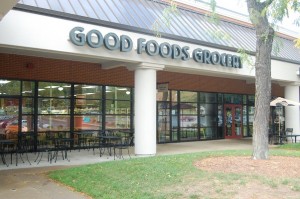 An organic grocery store unveiled a fresh look this month.
Good Foods Grocery, a health food store in Stony Point Shopping Center, almost doubled its size to 7,000 square feet from 3,700 square feet.
This is the first expansion of the store since it opened in 1985, general manager Susan Daniel said.
"The natural foods industry has grown quite a bit since we opened, and we couldn't represent it as well unless we expanded to supply more products," she said.
The roughly $200,000 renovation gave the store more room for bulk items, produce, spices and frozen foods. Daniel said the Stony Point location now has 26 freezers and more than 400 bulk bins.
It also added a cafe and seating area, which will be open for lunch Monday through Saturday.
Local firm W.E. Bowman handled the renovation. Construction started last October, and Daniel said it was completed without any major disruptions to the business.
"It couldn't have been a smoother process," Daniel said. "I'm already hearing from customers that are excited about some of our new, healthy products.
Besides a few minor tweaks to the cafe kitchen, construction wrapped up in late September.
Good Foods also has another store at Gayton Crossing, a shopping center on Gaskins Road in the West End.