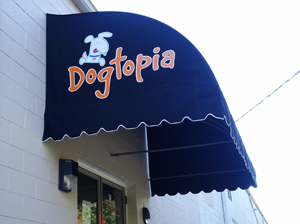 Sometimes Fido needs a day at the spa.
Two area couples have launched Dogtopia franchises: one in Henrico and one in Midlothian. The kennel chain has almost 10 franchises in the D.C. area, but these are the first two in the Richmond area.
The Midlothian location of the doggie day-care and spa operation at 11004 Midlothian Turnpike, run by Bob and Mary Beth Murphy, should open in early November. The Henrico location, run by Will and Heather Baum, opened in September. Their store is at 7217 W. Broad St.
According to the Dogtopia website, each of these businesses costs about $300,000 to launch, with a $42,500 franchise fee.
BizSense caught up with Will Baum, a 37-year-old Virginia Tech graduate, to talk about Dogtopia and why he decided to get in the dog-sitting business. Below is an edited transcript.
Richmond BizSense: What is Dogtopia?
Will Baum: An open-play dog day-care center, overnight boarding facility and spa. The dogs are separated by size into one of three playrooms where we'll have 20 to 30 dogs wrestling and playing all day long under supervision.
We also have a spa. We have two tubs where we offer self service. You can use our shampoos, towels and tubs for half an hour. But we will do it also, including trimming your dog's nails and cleaning its ears.
RBS: When did you open?
WB: September 8 was our grand opening.
RBS: Why did you decide to open a doggie day care?
WB: My wife and I had been looking for a small business for a long time. We wanted something small and service-based in the community that we enjoy so much. A family member in Northern Virginia, where we are both from, knew about the business and said, "You guys love dogs, why don't you do Dogtopia?" So a month later, we drove up and spent the day there and thought "This place is awesome!"
When we met the people at Dogtopia, we really liked the look and the quality of the facility. And they seemed to focus on customer service and returning a happy and content dog at the end of the day.
So there wasn't a whole lot of discussion after that. We got back in the car and said, "let's do it."
RBS: Why did you choose the West End?
WB: When we agreed to the Dogtopia concept, we looked at territories we can create in the Richmond area. There was the West End and the Southside. I wanted to be in the West End.
RBS: What separates Dogtopia from other kennel services?
WB: We are very focused on safety and creating an enjoyment where the dogs are having fun. It has a very clean, sanitary and chic look. It has nice tiles, nice furniture. And it doesn't smell like a dog place. Dogs really enjoy themselves; owners enjoy themselves.
RBS: How are you financing it?
WB: When I first agreed to do Dogtopia, I was working at Qimonda. We were initially going through banks, but when the economy turned it put me pretty sideways.
So I took out a loan against my 401(k). And we're also using some of our personal savings as well as using a network of friends and family who are our angel investors.
RBS: Are you keeping a day job?
WB: I am. I work at Capital One. We are taking the advice of the folks at Dogtopia. They stressed that we needed to run the business from community standpoint: Go to events within the community, go to the dog parks, charity events, etc. For the day-to-day operations, they said we should hire someone and let them run it, and that's what we've done. We've hired a great manager great with dogs and great with people.
RBS: What are the rates for the day-care service?
WB: For day care, it's 10 hours of open play: five hours, a two-hour break and then another five hour. It's $30 per day, but there are discounts for five- and 10-day packages. For overnight, it's basically the day-care charge plus a $20 fee.