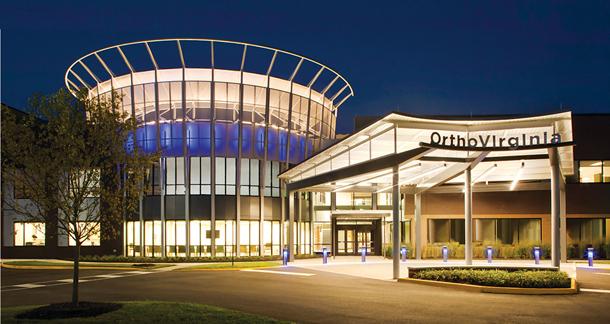 Two regional health-care organizations have opened a $25 million orthopedic and sports medicine center on Richmond's Southside.
The 70,000-square-foot complex, located at 1115 Boulders Parkway in the Boulders Business Park, will house rehab facilities, physical therapists and operation rooms.
It will be the first orthopedic center in Central Virginia that combines all these services in one place, OrthoVirginia administrator James Perkins said.
"It's not a new idea, but it's going to be more convenient for patients to have everything all in one place," Perkins said.
OrthoVirginia, a network of local orthopedic specialists, and HCA Virginia, which runs six hospitals and 20 outpatient centers across the region, will both have physicians practicing at the new facility.
HCA Virginia will operate a sports medicine complex out of the Boulders location. Executive Director Karen Nelson said they will have about three physicians and 20 athletic trainers on staff.
OrthoVirginia will have a staff of about seven orthopedic specialists in hand, knee, hip and spine repair. The two groups will collaborate on a new orthopedic surgery center.
The organizations approached local real estate firm Lingerfelt Companies in 2010 to develop the project.
Lingerfelt has an extensive portfolio of office properties, but Nelson said HCA and OrthoVirginia chose the company because of its experience with medical facilities. The firm developed the 100,000-square-foot Bon Secours Heart Institute and five Patient First facilities, according to its website.
Construction on the new facility started in June 2011 and was completed in several phases. Perkins, the OrthoVirginia administrator, said most of the building was ready in the spring, but the operating rooms just opened several weeks ago.
Perkins said the new location would have some of the highest-tech surgical equipment available.
"It's going to have advanced imaging and performance measurement equipment and top-of-the-line tools for injuries related to athletic performance," he said.
Local architecture firm Price Studios designed the facility, and Hourigan handled the construction. Atlantic Mortgage and Investment Company financed the project.
The center had its grand opening and ribbon cutting ceremony Wednesday.