A brother and sister team from Washington is launching Church Hill's newest corner bakery and cafe.
Evrim and Evin Dogu next month will open Sub Rosa at 620 N. 25th St., selling bread and other baked goods inspired by the Turkish food they grew up eating.
Sub Rosa began about three years ago in Evrim Dogu's kitchen. The VCU grad started baking bread at home and selling it at farmers markets and eventually decided to expand into his own storefront. His sister, who attended William & Mary, came on board last year.
Until the new store opens, the siblings are selling breads, tarts and other pastries every Tuesday at the Byrd House Market in Oregon Hill. They plan to open the storefront the week before Thanksgiving, in time to catch some holiday business.
BizSense caught up Evrim, 29, and Evin, 32, to talk about their plans.
Below is an edited transcript.
Richmond BizSense: Why did you decide to open a bakery?
Evrim Dogu: We grew up loving food, but we actually didn't grow up with great bread. So for one, I'd really like to open people's consciousness to good bread. That's part of the goal.
Sub Rosa didn't start out as an idea for a bakery it was just me making bread and a few other baked goods. It grew very organically from that. Each step along the way, we realized what it could turn into. Now we want this to be the kind of bakery that we would like to walk into in any other country or state.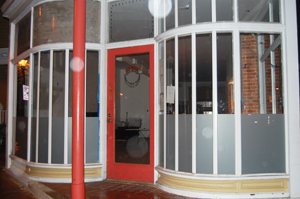 RBS: What are some of your earliest baking memories?
Evin Dogu: My father is a restaurateur based in D.C. He runs a chain of pizza restaurants called Rosemary's Thyme Bistro. So we grew up around baked goods and a lot of wood-fired ovens. I have a lot of memories of going to bakeries and friend's homes and just having all these great Turkish breads and pastries. I didn't start baking seriously until about a year ago. I was a teacher.
RBS: How did you finance the new bakery?
Evin Dogu: We applied for a Small Business Administration loan through Stellar One and got approved for it, and then about four or five months into the process, it got revoked. To meet the criteria, a certain percentage of the building you operate out of has to be commercial space, and this building came with three apartments.
Even though the SBA loan didn't work out, Stellar One (partnered with the Richmond City Economic Authority) still pulled through. They didn't give us as much as we needed, but it was still enough to buy the building.
Evrim Dogu: That process was extremely taxing. I think we're a little too small, in a sense. We didn't really capture the interest of a lot of financial investors. We did get some grant money from Bon Secours, and we have some private investors.
RBS: About how much did you invest?
Evrim Dogu: The building was $300,000, and the rest was about $150,000.
RBS: How are you going to stand out from the other bakeries in the area?
Evin Dogu: Our flavor profiles are different, and we do almost everything by hand. That may or may not change after we open, but for now we aren't even using a mixer. All the methods we use are meant to bring out as much flavor as possible in the food we make and to stay as true to the craft as possible.
Some of the spices we use are just a little bit different as well that comes from our Turkish background. And we have our own mill in the back to produce our own flour.
RBS: Why do you mill your own grain?
Evrim Dogu: You wouldn't believe it, but flour options are extremely limited for baking. There aren't a lot of choices. I tell artists, it's like being able to paint with two colors. Milling our own grains lets us see the full cycle from start to finish, and it lets us incorporate grain from local farmers. That's something that's very important to us.

View Larger Map