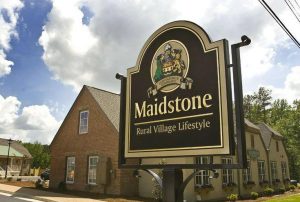 A bank branch in a stalled New Kent County development has called it quits.
Colonial Virginia Bank last month closed its branch at New Kent Courthouse Village, a 21-acre mixed-use development that has been in and out of bankruptcy and foreclosure.
The 4,000-square-foot branch opened in May 2009.
"For a couple of years, New Kent, percentage-wise, was one of the fastest growing counties in the state," said Kenneth Smith, Colonial Virginia Bank's CFO. "We were taking our stab at the growth around the courthouse area. But it has not come to fruition."
Smith said the bank, a small community institution based in Gloucester, wanted to compete in the county with C&F Bank and EVB.
"Our primary focus was being able to capture a decent percentage of new growth and new business in the community, not necessarily to take business away," Smith said. "The growth stalled."
During the housing boom, developers looked to New Kent as the new suburban frontier for Richmond commuters. It sits about 30 minutes east of the city.
"It was heavily dependent as a bedroom community," Smith said. "New Kent kind of hit a wall."
New Kent Courthouse Village has been one of the victims of that wall.
The project was conceived as a $30 million development broken into two sections: Preservation Park, the commercial center of the village, which had seen some success in luring businesses, and Maidstone, which was to consist of about 70 homes.
After spending about $9 million on construction of the first phase of the village, developer Grosjean "John" Crump put the project in Chapter 11 in September 2011 to prevent a foreclosure by Essex Bank, one of three lenders owed money on the development. Essex was looking to foreclose on its portion of the Maidstone section.
Crump, New Kent County's former commissioner of the revenue, started working on the development eight years ago. His vision was to fashion the project after a pedestrian-friendly English village, with a church, government building, school and green space. The project stalled after it ran out of money.
Crump eventually requested to have the bankruptcy dismissed, saying at the time that he was looking to work out new terms with lenders and keep the project alive.
But in March, EVB began foreclosure proceeding on three acres at Preservation Park, which included nine commercial development parcels.
"It became a victim of timing," Smith said of the development. "It may still have potential, but it's several years down the road. And we decided not to ride it out."
Colonial Virginia Bank's branch and the land on which it sits at 7791 Invicta Lane are owned by the bank and did not get tied up in the development's bankruptcy or foreclosure proceedings.
The $120 million bank still has two branches in Gloucester and a loan production office in York County.
It is in the process of listing the building for lease, Smith said.
John Crump did not return calls or emails by press time.

View Larger Map