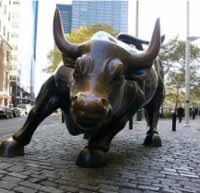 Altria (MO)
CFO Howard Willard sold 37,500 shares at $31.93 per share, a sale of $1.19 million. He still owns more than 227,000.
Bank of Virginia (BOVA)
The Midlothian bank extended the closing date of its stock rights offering to Nov. 13 at 5 p.m. because of the effects of Hurricane Sandy and the impediments that the storm may have caused for stockholders seeking to submit their rights offering documents in a timely manner. The deadline had been Nov. 6. The bank is hoping to raise additional capital through the offering.
Brink's (BCO)
Shamrock Holdings, one of Brink's larger shareholders, issued a press release Nov. 5 containing a letter to the Brink's board, urging the company to consider strategic alternatives, including a sale of the company. "Brink's shareholders have suffered through years of empty promises and failed initiatives," the letter states. It goes on to state that Brink's stock price has declined by over 60 percent in the last five years and that the situation has "only worsened under the tenure of new management."
Shamrock was founded by the late Roy E. Disney, a nephew of Walt Disney who was an executive at the Walt Disney Company. Shamrock, according to its website, serves as the investment vehicle for certain members of Mr. Disney's family.
Brink's said in a filing that it will "review the letter in due course." Read the full letter here.
CarMax (KMX)
Shira Goodman, a director, bought 1,000 shares at $33.41 per share, a purchase of $33,410. Goodman owns more than 14,000 shares.
Vivian Stephenson, a director, exercised options for 6,804 shares at $17.44 per share or $118,000. She then sold the shares at market price at $34 each for a total of $231,00.
Joseph Kunkel, a senior vice president, exercised options for 124,000 shares for a total of $2.5 million. He then sold the shares at $34.51 per share for a total of $4.27 million.
Dominion (D)
David Heacock, a president and chief nuclear officer, sold 30,000 shares at $52.50 for a total of $1.57 million. He still owns 22,000 shares of Dominion stock.
Genworth Financial (GNW)
The company approved retention incentive awards for its top executive. Martin P. Klein, Patrick B. Kelleher and Kevin D. Schneider, its top three executives, each were awarded $1 million in cash retention incentives payable Dec. 31, 2014, provided they are still employed by the company on such date. They may receive the payments earlier under certain conditions.
Klein, the company's acting CEO, also acquired 15,000 shares at $6 per share. He owns more than 35,000 shares of Genworth stock.
Markel (MKL)
The specialty insurer sold 60,222 of its shares in Union First Market Bank. The total sale price was approximately $942,000, with an average per share price of $15.56. Markel took a stake in Union when it was formed through the merger of the former Union Bank and First Market Bank. First Market was owned largely by Markel and the former Ukrop's Super Markets. Markel still owns more than 3.44 million shares of Union stock.
MeadWestvaco (MWV)
Bruce Thomas, a senior vice president, exercised options for 20,000 shares at $8.05 or $161,000. He then sold the shares for $30.01 or $600,000. Thomas still owns more than 45,000 shares.
NewMarket (NEU)
David Fiorenza, the company's CFO, sold 1,000 shares at $277.36.
Owens & Minor (OMI)
Gilmer Minor III, a director, sold 33,233 shares at $28.92 per share for a total of $961,000. He still owns more than 43,000 shares.
Star Scientific (STSI)
Mario V. Mirabelli, a member of the company's board of directors, announced his intention not to stand for reelection at the company's annual meeting on Dec. 14. The company said his decision was solely due to personal reasons. Mirabelli had been a director since July 2010.
The company also said that Ralph B. Everett has been nominated for a spot on the board. He'll be up for election at the annual meeting. Everett was previously an attorney, worked for the federal government and served as president and CEO of the Joint Center for Political and Economic Studies, a think tank.
Universal Corp. (UVV)
The company announced a quarterly dividend on common shares to $0.50 per share, payable Feb. 11, 2013, to shareholders of record at the close of business on Jan. 14, 2013.
It also declared a quarterly dividend of $16.87 per share on its the Series B 6.75% Convertible Perpetual Preferred Stock, payable Dec. 15 to shareholders of record as of 5 p.m. Eastern Time on Dec. 1.