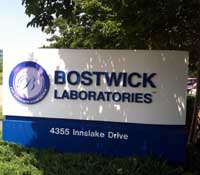 A Richmond firm that last year sold its majority stake to a private equity firm is cutting 90 positions at one of its offices.
Bostwick Laboratories, headquartered in Innsbrook, will lay off 90 of its 154 employees at its lab in Orlando, according to the Orlando Sentinel.
The Sentinel report says the positions at the Orlando lab will be eliminated by next August.
Bostwick, which occupies a 65,000-square-foot headquarters on Innslake Drive in Glen Allen, sold a majority stake of itself to New York-based Metalmark Capital in October 2011.
Following that deal, founder David Bostwick moved from the role of chief executive to chief medical officer.
The company last December bought the 32,000-square-foot former headquarters and laboratory of Commonwealth Biotechnologies in Midlothian for $3.8 million in a court-ordered auction. The building's main tenant is lab firm AIBiotech, which Bostwick also owns.
Bostwick was founded in 1999 and for a time was one of Richmond's fastest growing companies, filling a niche in cancer diagnosis testing.
The company at one point had 750 employees and revenue of more than $100 million.
It moved out of one of its local offices and put several of its labs, including in Nashville and Phoenix, up for sale. It then received a $43 million round of financing from a New York health-care lending company.
In addition to its Innsbrook headquarters and Orlando offices, Bostwick has labs and offices in Uniondale, N.Y., and London. It also previously had a lab in El Paso, Texas.
Company spokesperson Richard Bostwick did not return a call by press time.