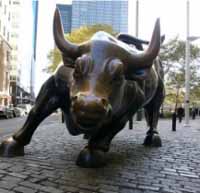 Altria
The company's Philip Morris USA subsidiary and other cigarette manufacturers reached an agreement with nineteen states to resolve long-standing disputes related to the anti-smoking agreement of 1998. Virginia is among the 19 states that will each receive a share of $4 billion. The agreement forces tobacco companies to pay states over time to help cover the healthcare costs related to ailments caused by smoking. So far, states have received more than $85 billion. Read here for more on the terms of the agreement.
Brink's
Ronald Rokosz, a director, exercised options for 20,000 shares at $19.05 per share. He then sold the shares at $28.93 per share for a total of $578,000.
Dominion
Paul Koonce, an executive vice president, sold 11,875 shares at $51.18 per share for a total of $607,000. He still owns more than 92,000.
Genworth
The company's recently named new CEO Thomas McInerney will receive an annual base salary of $1 million when he takes his post next month. He'll also have the ability to earn an annual performance-based cash incentive award equal to 200 percent. His pay package further includes 1 million stock appreciation rights and 100,000 restricted stock units
Markel
The insurer continued to sell off its stake in Richmond-based Union First Market Bank. In three transactions this week, Markel sold a total of 15,000 shares of Union stock at $15.50 per share, for a total of $232,000. Markel still owns more than 3.3 million shares of the bank's stock.
NewMarket
Robert Shama, newly appointed president of the company's Afton Chemical subsidiary, will receive an annual base salary of $400,000 effective Jan. 1, the company said in a filing.
NewMarket also announced its plans for a $300 million private debt offering. The company said it intends to use the proceeds from the offering to repay a portion of its debt on a $650 million credit line.
Star Scientific
The company said it will discontinue the manufacture, distribute and sell its dissolvable smokeless tobacco products, Ariva and Stonewall Hard Snuff as of Dec. 31. That will be the end of Star Scientifics involvement in any tobacco products. The decision was made in light of the continued losses and low sales for the products. It also said that federal smoking and tobacco control laws made it difficult to market the products as a less hazardous alternative to cigarettes. The company is now focusing on its anatabine citrate compound in dietary supplements Anatabloc that is aimed at treating inflammation. It will look to license some of its dissolvable tobacco products and its patented tobacco curing process.