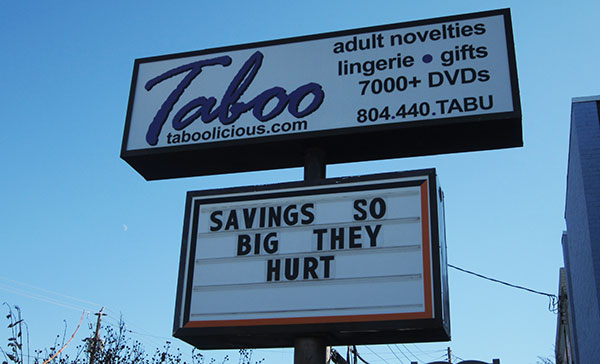 A popular book is having a deep impact on the adult novelty trade in Richmond.
The hugely popular novel "50 Shades of Grey," a story that weaves in a healthy dose of bondage and other fetishes, has brought a horde of new customers to two local adult novelty stores.
Alison Barber, owner of the West Broad Street store Taboo, said she has seen sales rise since the book came out, although it's hard to gauge precisely what effect the novel's popularity has had on her numbers.
"It's been crazy," Barber said. "I had no idea it would affect my business the way it did. This is the most impact I've seen on the adult industry probably ever. I mean, I thought the Paris Hilton sex tape was big. That was nothing."
Barber has been running ads on local radio that highlight her store's "50 Shades" merchandise, and she has several shelves dedicated to products described in the book.
"We'll have husbands come in and say, 'My wife is looking for a product that she read about,' and we don't even need to let them finish," she said. "We know right away what they are talking about."
Lauren Hales, a manager at Pricilla McCall's, also on West Broad Street, said she has noticed the same jump in demand.
"We don't have a special '50 Shades of Grey' section or anything," Hales said. "We have a fetish section, but the Ben Wa balls have definitely been popular, especially among slightly older women. They're saying 'Well, my sex life has been the same for the past 20 years. I want to try something new.'"
Bloomberg Business Week reported in December that the $2 billion sex toy industry is estimated to grow 15 percent this year as the effects of "50 Shades" ripple through the marketplace.
Barber, the Taboo owner, said she's thrilled to see the effect the book has had on sales, and not just for her store.
"I think anything that encourages people to explore their sexuality is good," she said. "It's not about me making money. I don't care if you just go to Home Depot and buy a rope. I'm just glad it has opened people up to new things."