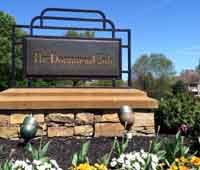 A Western Henrico country club is back in the middle of a legal battle.
Eight former members of the Dominion Club have sued the club's owners and operators in an attempt to recoup almost $100,000 in membership initiation deposits they claim they're owed. One current member has also filed suit.
The nine plaintiffs combined are seeking more than $300,000 in damages and allege breach of contract, unjust enrichment, false advertising and violations of the state Consumer Protection Act.
They are suing 13 companies and individuals including HHHunt Corp., which developed the club and the surrounding Wyndham residential communities, several HHHunt principals and several entities tied to the company.
The Dominion Club is not named as a defendant.
The nine plaintiffs, each of whom filed separate but similar cases last week in Henrico County Circuit Court, were among a small group of Dominion Club members who rebuffed an agreement reached in federal bankruptcy court last year whereby members could receive a small percentage of a refund on their initiation deposits if they signed away their right to sue in the future.
The nine plaintiffs claims that their deposits came due Dec. 31, 2010, and they want what they say they're owed.
Those sorts of deposits were at the center of the 20-year-old club's Chapter 11 bankruptcy filed in January 2011.
Most Dominion Club members joined the club after its founding in 1992 by paying initiation deposits of between $10,000 and $24,000. Those deposits were marketed as fully refundable.
The club was put into bankruptcy after it said it could not pay $1.7 million in initiation deposit refunds that had come due to about 100 members at the end of 2010. Another $10 million in deposit refunds was due down the road.
The club's owners, which include HHHunt, maintained throughout the bankruptcy process that it wasn't their responsibility to refund the money to members because the club was a separate legal entity.
A bankruptcy creditors committee made up of current and former members sued HHHunt during the bankruptcy process, trying to force the owners to repay the deposits.
A reorganization plan was eventually created whereby Hunt agreed to contribute about $3 million that would immediately repay some members 11 cents on every dollar of deposits they were owed. Members could wait to see what price the club and its land might fetch once sold in the future. That option was expected to repay members at least 20 cents on the dollar.
The HHHunt executives being sued in these latest cases include chairman Harry Hunt II, outgoing president and chief executive David Reemsnyder, HHHunt subsidiary presidents Daniel Schmitt and James King, and vice presidents James Crowder and David Tuggle.
Reached by phone Wednesday afternoon, Schmitt, who will soon takeover as HHHunt's chief executive, said he had not seen the suits.
"I'm not a position to comment," he said.
The nine plaintiffs are: Robert L. Morin, James S. Copenhaver, Thomas R. Guinan, Timothy H. Baumgartner, Gerald Blake, Walter C. Hodges, Steven Paul Walls, John Warren and John D. Alderdice.
Each of the plaintiffs is represented by local attorney Brickford Brown.
Brown declined to comment on the cases, saying he hadn't received permission from his clients to speak on the matter.