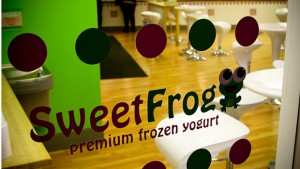 Sweet Frog has landed in Kings Dominion.
The Richmond-based frozen yogurt chain will open a self-serve station in the Doswell amusement park this spring, according to a report from the Fredericksburg Freelance-Star.
The Kings Dominion spot will be the rapidly growing chain's first at an amusement park.
"We've always liked expanding in Virginia," said Sweet Frog spokesperson James Denison. "And we have this amusement park right in our front yard. It's a family-friendly place, and it's a good fit with our brand."
Sweet Frog, the frontrunner among the Richmond fro-yo chains, remains in expansion mode.
Since the company launched in 2009, about 200 Sweet Frog locations have opened in 24 states. Denison said the company has plans to open an additional 100 stores by the end of the year.