RICHMOND, VA, MARCH 4, 2012 – The Payments Company (TPC), a leading provider of automated electronic payable solutions, announced today that it has been recognized as a winner in the 2013 Paybefore Awards.
The TPC Prepaid Virtual Visa Card Program was awarded first place in the "Best Business-to-Business Prepaid Card" category.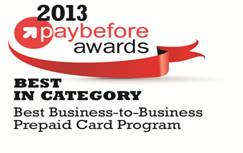 The Payments Company facilitates electronic payments between businesses, vendors, and employees. Backed by its proprietary software and AP advantage™ ePay Network, TPC provides a complete accounts payable disbursement solution that includes software integration, vendor enrollment, payment processing and reconcilement. Clients import a single file of payment instructions and AP advantage™ executes financial transactions and delivers associated customized electronic payment details.
The company specifically targets underserved middle market clients that are unable to implement full scale ePayments without technical resources and available credit. Using a virtual debit card solution, companies prefund their payments while earning cash rebates and moving away from costly and environmentally unfriendly paper checks.
"We're thrilled to be recognized as an innovator and leader in the payments industry with our best in class virtual Visa e-Payables program," said Steve Winston, TPC's President.
Paybefore Awards, now in its seventh year, is the most prestigious recognition of excellence in the worldwide prepaid and emerging payments industry. The awards are presented annually by Paybefore, whose publications are the leading source of industry information for alternative payments executives.
This winning program was selected by a panel of five industry experts who served as judges for this year's competition, which — once again — included a record number of entries from around the world.
"As the world changes, so do the payment and money management needs of individuals, businesses and government agencies," added Marilyn Bochicchio, Paybefore's CEO. "Paybefore Awards recognizes the organizations that use financial services to make people's lives better, which is why it is so exciting for us to honor those who champion innovation and excellence."
For more information on AP advantage™ and the benefits of implementing e-Payments for vendor invoices, visit the website at www.thepaymentscompany.com or call 877-680-7332 and choose Option 3.
For more information on the Paybefore™ pre-paid association, visit the website at www.paybefore.com.
The Payments Company partners with The Bancorp Bank for secure and protected e-payments.
© 2012 The Payments Company. All rights reserved.