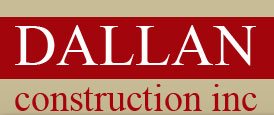 Dallan Construction was born 15 years ago, when Danny Meyer and Rich Robertson, who were working at a design firm, decided it was time to pursue their dream of starting a construction company.
Having the benefit of seeing projects from "the other side," so to speak, it was evident that there always seemed to be a lack of communication between the designers and the contractors. Meyer and Robertson felt confident that they could improve this gateway. They saw an opportunity when the time was right, and Dallan was born.
Dallan Construction Inc. is a full service general contracting firm located in Richmond, Va. We have extensive experience in the planning and execution of commercial and industrial construction and renovation projects. Dallan's projects have included a wide variety of facility types and have ranged from 1,000 square feet to more than 170,000 square feet.
The firm has an excellent reputation, which it maintains through its relationships with satisfied clients, architects, subcontractors and vendors. Dallan secures a majority of its work through negotiated or select bid contracts, frequently with repeat clients.
Dallan received the Rising 25 Award for the fastest growing privately held company in 2003, was recognized for being the second-fastest growing company in 2004 and was in the top 25 in 2005 and 2006. In 2004, Dallan was a finalist in the Ernst and Young Entrepreneur of the Year Awards and in 2013 Dallan received the Best New Office Building Award from GRACRE (Greater Richmond Association of Commercial Real Estate).
We would like to thank our clients, our vendors and all of our friends and colleagues for their support and confidence in Dallan Construction. They have helped us maintain our philosophy:
1. Ensure that our clients are satisfied with the result of their financial commitment to their project.
2. Recognize that every successful project is completed by a dedicated team.
3. Treat that team and the client with respect.
We look forward to the next 15 years.
Sincerely,
Danny Meyer
President and co-founder
Dallan Construction Inc.