A local art museum is expanding its retail reach.
The Virginia Museum of Fine Arts is opening a temporary holiday-season retail store at Stony Point Fashion Park. The 2,500-square-foot store will open in mid-October and run until the end of December carrying the more popular items from the VMFA's onsite museum shop.
"We'll carry basically a selection of our best sellers," Shop Manager Michael Guajardo said. "We will have things from every department that we have in the shop, but kind of the best and brightest of it all."
The brick-and-mortar location will be the VMFA Shop's first offsite retail store. The 50-year-old shop currently operates in a 3,500-square-foot space at the museum's North Boulevard location.
The museum shop will be revamping its website beginning this month and hopes the extra location will help offset lost e-commerce sales.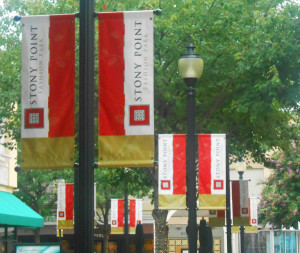 Guajardo said the shop does not have plans for any further offsite retail locations. Instead, increasing online business will be a high priority for the shop when its website re-launches next year. E-commerce currently accounts for less than 10 percent of the VMFA Shop's total sales.
"Our new website is going to be way more robust and user friendly and have great little bells and whistles to it," Guajardo said. "So our goal is to definitely increase that number."
The VMFA Shop generated $3.3 million in revenue for the fiscal year ended June 30, up from $2.1 million for the previous year. Those figures put the shop in the top 10 percentile for highest grossing art museum shops across the nation.
The VMFA is at least the second retail outlet to take up temporary space at Stony Point this Fall. Last month Ledbury announced its own pop-up shop as the shirt-maker works to expand its brick-and-mortar retail reach.