Under the WorthWorks name, the latest Worth Higgins & Associates' division will manufacture and install site-specific custom art for corporate, hospitality, education and health-care facilities
RICHMOND, Va., Sept. 10 – Epiphany Studio has helped Virginia's largest sheet-fed commercial printer launch its architectural products division.
Worth Higgins & Associates, which is known as a premier provider of print and electronic communication solutions, is bringing its expertise to the architecture and design industry. Under the new division, WorthWorks, Virginia's largest commercial printer will offer architects and designers the ability to specify and create custom site-specific art for their corporate, hospitality, education and health-care projects.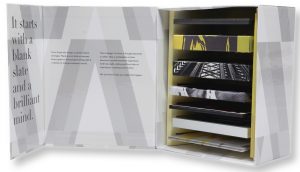 But that's just part of the story …
Worth Higgins veteran Scott Hudson and company president Rick LaReau retained Susan Milne, a seasoned creative director and owner of the local brand agency Epiphany. Milne recognized an opportunity for the traditional printing shop to launch a new architectural products division offering growth in an oversaturated marketplace. Milne realized that Worth Wide, the wide-format imaging division of Worth Higgins, was already using its equipment to print high-resolution graphics as large as 4 by 8 feet for corporate sector and retail clients on everything from rigid substrates such as acrylic, gatorboard and aluminum composites to flexible media such as paper, vinyl and canvas.
What was missing was positioning.
Milne confirmed what Hudson was already beginning to experience in the marketplace: The product was suitable for more than just corporate signage and retail advertising. There was substantial evidence in the market that the same printing technology could be used to create custom artwork for architects and designers to use in commercial projects, turning out higher profit margins.
Milne then introduced the rest of the team at Epiphany, and the creative process for the brand identity began. Epiphany called the new division "WorthWorks." The name seemed to be the perfect mix of tradition – "Worth" being the first part of the company's name – and innovation – chic and modern.
Epiphany developed sales materials, a website and an architectural sample kit that created a differentiated brand for WorthWorks, reflecting the inspirational nature of the product. Epiphany avoided using generic names for the products, opting instead to create names that evoked an emotional connection: printed images on acrylic were christened "Acra," and printed images on fabric are called "Textil." Other product names include Aglow, Aluminart, Artowall, Intricut and Rapa.
About WorthWorks
Based in Richmond, Va., WorthWorks is a division of Worth Higgins & Associates, the largest sheet-fed commercial printer in the state. WorthWorks was founded in 2012 to specifically address the needs of interior designers and architects. Fusing creativity with capability, WorthWorks has served an impressive list of national brands. Learn more at www.worth-works.com.
About Epiphany Studio
Epiphany Studio, based in Richmond, Va., was founded in 2001 under the name Flashpoint Brands. This full-service communications consultancy handles marketing communications for major clients such as ABC Bakers (a subsidiary of locally based Interbake Foods), Inaray, Virginia Cancer Institute and WorthWorks (a subsidiary of locally based Worth Higgins & Associates). Learn more at www.epiphany-studio.com.