This is the second round of updates on entrepreneurs BizSense wrote about in 2013. If you missed it, check out the first installment, which included news from Main Street Barber & Mercantile, the Artisans Shop and more.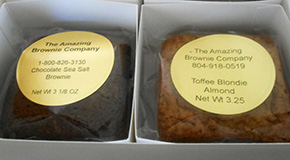 Just Amazing Brownies
A startup brownie company is still baking away, but under a different name.
Rose Mohr opened this summer in Glen Allen as the "Amazing Browning Company" but had to change the name in November because a business in Florida was using it. She's now baking up chocolaty goodness as "Just Amazing Brownies."
Mohr, who was previously in real estate, bakes at Relish the Kitchen, a Chesterfield culinary co-op. She handles the business end out of her home. She's made "a few thousand" brownies and said the toffee almond blondie and chocolate peanut butter flavors are the most popular.
Mohr said she has been able to make brownies much faster since her son, Ryan Mohr, joined her as sous chef.
The brownies are sold through the company's website, through Relay Foods, on TaylorMadeforYou.com and at the Made in Virginia store in Fredericksburg. Mohr hopes to expand the retail availability in 2014.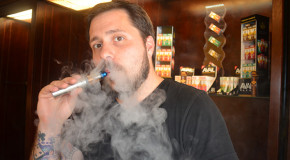 Avail Vapor
Electronic cigarette company Avail Vapor, which got its start in a Carytown storefront in June, has opened five shops over the past six months in Short Pump, Fredericksburg, Blacksburg, Norfolk and Virginia Beach. Two more stores, in Maryland and Washington, are slated to open soon.
The Short Pump shop just had its grand opening in a 2,200-square-foot storefront at 11440 W. Broad St., owner Donovan Phillips said.
Phillips said he and his business partners, Cole Smith and James Xu, "strategically planned" fast growth for the company.
Phillips said that they launch eight to 10 new flavors a month and that the liquids used in the e-cigarettes are still made in Richmond, although the manufacturing of the e-cigarette itself is done abroad. Moonglow and Gold Rush are their two most popular flavors of liquid.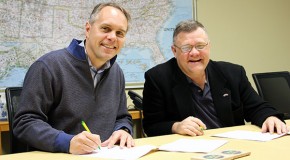 Mosquito Joe
Ridding Richmond homes of pesky mosquitos has kept Robert Rummells buzzing around.
Rummells, a retired Army ranger, opened a Mosquito Joe franchise in May. It is the first Richmond franchise for the Virginia Beach-based company whose technicians apply a spray that kills mosquitoes for 21 days.
Rummells said he operated the business by himself this past mosquito season. He started with 12 to 15 customers and now has 252.
"There were a few times I wish I did take the time to add a couple of lads to the route," he said.
Mosquito season has died down for the winter, but, when it starts back up in April, Rummells said he plans to hire at least one full-time worker or a couple of part-timers.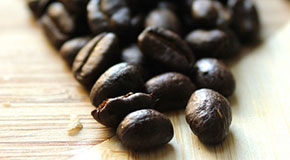 Odds and Evens
Shawn Bergin is trading coffee beans for skin cream.
Bergin tried this spring to launch Odds and Evens, a grill-roasted coffee bean company, but he said it never really percolated.
"With all of the competition that lies in the coffee market, I faced the same major issue that any high-end food or drink company faces: getting people to try something different," Bergin said in an email.
Bergin has another endeavor up his sleeve, however. He has been working on a men's skincare line since 2012 and plans to launch it early next year under the brand Urban Gentleman.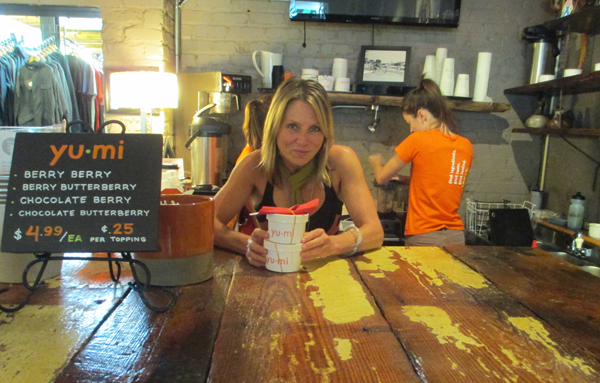 Yu•mi
The owners of this frozen sweet treat have big plans.
Kyra Oliver opened yu•mi (pronounced "you me") in summer 2013 inside Carytown Bicycle Co. at 3112 W. Cary St.
Yu•mi is a blend of frozen fruit and a plant-based protein mix served with toppings. Oliver likened it to a frozen smoothie but said it is nutritious enough to be eaten as a meal.
Oliver said yu•mi is about to secure its first investors. She and co-owner John Homs plan to expand the menu, perhaps adding herbal teas, coconut water blends and grab-and-go salads.
They are also looking into adding more stores. Oliver said they want to try out some locations by setting up pop-up shops near VCU's Siegel Center and the Libbie/Grove area.
They might also look to distribute yu•mi in restaurants and fitness boutiques.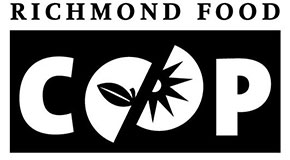 Richmond Food Cooperative
Richmond Food Cooperative is still cultivating support for its member-owned grocery store.
Project manager Michele Lord said they've signed up about 300 members, almost a third of the 1,000 members they need to open the co-op.
"It's a long process of really engaging people to do something so grassroots and community built," Lord said.
Lord said the co-op wants to open in Scott's Addition but won't select a space until they get a couple hundred more members.
For a $125 membership fee and a $25 joining fee, anyone can buy an ownership stake in the co-op, which entitles holders to a discount on groceries and a say in what the store stocks. The store will be open to the public.
Lord said the co-op recently received a $10,000 startup grant from the Food Co-op Initiative. They are getting ready to launch a campaign on Kickstarter, an online fundraising site.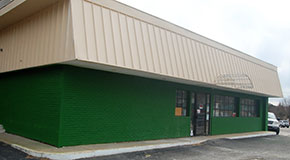 Goin' Bananas
Jungle-themed frozen yogurt shop Goin' Bananas opened in June at Three Chopt Road and Patterson Avenue.
Owner Eddie Simmons said they did "way better than expected" during the summer months but have seen a large drop in customers since the weather turned cold.
Simmons said the shop cut its hours a bit to help ride out the winter.
Goin' Bananas now offers a line of yogurt suitable for people who are lactose or gluten intolerant or diabetic, in addition to their regular blends. They are thinking about adding smoothies.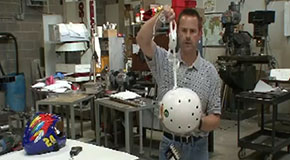 NogginLOC
Allen Bancroft is using his noggin to promote his football helmet strap invention.
Bancroft, a Midlothian engineer with a background in robotics design, has kept busy this year trying to get word out about his invention, NogginLOC.
NogginLOC is a fastener that keeps a football-helmet strap secure during tackles and other rough plays, Bancroft said.
He's recruited some local high school players to try it out and, so far, all have reported that their helmets don't leave their head when they've got NogginLOC on, he said. An adult football league in Sweden also has players using the product.
Bancroft is selling NogginLOCs online and going to trade shows.
He said he has applied for two patents for the device and is still in the approval process.