Bent on becoming the biggest frozen yogurt brand in the country, a Richmond-based chain is bringing in outside help to add some flavor to its marketing strategy.
Sweet Frog recently hired local ad agency Big River to help the 4-year-old fro-yo company better understand its customers as it looks to grow.
"It's really kind of uncovering what their recipe for success is and how do we enhance that going forward," said Big River President and CEO Fred Moore.
Working with Big River marks a shift for Sweet Frog, which hasn't made much use of traditional advertising in the past, aside from a few radio ads.
"A lot of what it has been is community grassroots marketing," said Victor DiPace, Sweet Frog's director of marketing. "We participate in a lot of community events, fairs, parades and get involved with nonprofit groups."
Sweet Frog wants Big River to help decide the best way to market the brand — whether that might be continuing with the same approach or launching a more traditional advertising presence.
"We want to know what the customer wants and how to give it to them," DiPace said.
Sweet Frog trails only TCBY and Menchie's in number of locations nationwide, according to the each company's store counts.
Sweet Frog was founded in Richmond in 2009 by Derek Cha and opened its first location in Short Pump. DiPace said the company now has 326 locations in 26 states, Washington, D.C., the Dominican Republic and the United Kingdom.
It would like to hit 400 stores by the end of the 2014, he said. It is aggressively pursuing franchisees, particularly those who'd like to operate several stores.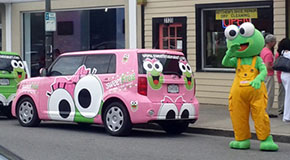 It has 18 stores locally, far outpacing other brands in the market. Menchie's and TCBY each entered the area in the past year or two.
DiPace said Sweet Frog doesn't have a traditional advertising budget. Instead, it has doled out money on a per-project basis.
Moore said Big River initially will conduct research on behalf of Sweet Frog. The firm will reach out to customers and pop into stores with the goal of finding out what brings them to Sweet Frog and what they think of the experience.
"One of the great things about Sweet Frog is the customers love to talk about it," he said. "We're going to be all ears listening."