Richmond's newest brewery is ready to be tapped.
Triple Crossing Brewing Co. will pour its first pints today as the downtown brewery and tasting room opens to the public.
The menu at the 2,800-square-foot, South Foushee Street brewery will include the Element 79 Golden Ale, the Falcon Smash IPA, a single-hop saison and a rye pale ale.
The Triple Crossing spread brings a "hop-forward" selection that head brewer and Triple Crossing co-owner Jeremy Wirtes said could fill a gap in the exploding Richmond brewing scene.
"There's not a lot of hoppy beer brewed in Richmond, and I feel like that's what a lot of people want," he said. "You go to Total Wine and all of those west [coast] beers' bottles are gone."
Wirtes and Monacan High School alums Adam Worcester and Scott Jones are co-owners of Triple Crossing. Jones works full time as an application developer and Worcester has a job in the financial industry. Wirtes is a self-described "home brewer who got to go pro."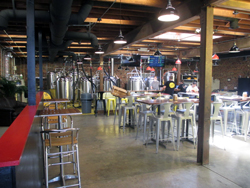 The idea for Triple Crossing began brewing after Senate Bill 604 passed in May 2012. It really started to take shape in October after the trio sat down for dinner at Midlothian's Sedona Taphouse to see if the numbers made sense for a small brewery selling mainly by the pint.
Seven months later, Triple Crossing had a brewery. They signed the lease at the former CrossfitRVA building at 113 S. Foushee St. in May 2013. The team didn't disclose total startup costs, but $141,252 worth of building permits were issued for the address last year.
Between buying the brewing equipment, building out the space and gaining all the necessary approvals, Jones said the brewery cost more and took longer to open than they initially planned, a chorus not uncommon for startups.
"We're pretty much par for the course on that," Jones said.
Triple Crossing currently has a seven-barrel capacity capable of brewing about 220 gallons of beer at a time. It's roughly the same size as the Isley Brewing Co. system in Scott's Addition and one of the smallest capacity systems in the local beer game so far.
For the time being, Triple Crossing will be available mostly at its on-site tasting room. Locally based Brown Distributing Company handles the small limited releases to local bars.
The company has released a series of beers with names, logos and brands behind them, but so far hasn't yet established which will be year-round beers in regular rotation.
"We've got these brands and if they do well, we'll bring them back," he said. "But with the flexibility of our size and not distributing as much, we can mix it up."