Federal prosecutors now want to throw the book at an imprisoned local developer.
The U.S. Attorney's Office claimed in new allegations Friday that Billy G. Jefferson Jr. had been building a hoard of cash, prepaid gift cards and casino chips, all while scheming to flee the country using a false identity. It said Jefferson devised the plan as his tax-credit scheme began unraveling last year.
In light of the new allegations (you can read the full file here), prosecutors are asking to seek a maximum 20-year sentence for the two felonies the local landlord already pleaded guilty to. Both sides initially agreed to a recommended 6.5-year prison sentence for Jefferson.
The 22-page filing alleges a tale of Jefferson's high-roller status in Las Vegas, homemade IDs claiming his brother's identity and a chartered flight to England before he was set to plead guilty. The filing also includes a description of camouflaged PVC piping to potentially bury what prosecutors say is a stockpile of up to $2.4 million.
The U.S. Attorney Office then said it plans to bring new charges against Jefferson in what it called a "breathtaking campaign designed to fritter away those funds, to flee to a foreign country just before his guilty plea and to create his own cash hoard through a series of elaborate steps."
The U.S. Attorney's Office did not indicate the nature or severity of the potential charges.
Williams Mullen attorney Chuck James and Hunton & Williams attorney John Martin represent Jefferson. James said the defense team is reviewing the new filings and will respond in due course, but declined further comment.
In illustrating his various alleged methods for moving money around, prosecutors state that Jefferson withdrew $675,000 in 670 separate ATM transactions, over-the-counter withdrawals and checks made payable to "cash" over 7.5 months beginning last June.
Around the same time, prosecutors say, Jefferson amassed more than $56,000 worth of Visa and American Express prepaid gift cards in $500 and $1,000 increments. They say Jefferson often bought several from different retailers on the same day.
Jefferson also made three trips to Las Vegas, prosecutors allege, where he received another estimated $2.2 million in cash between casino sports book withdrawals, chip cash outs, cashing five standard checks and completing 42 separate ATM transactions.
The Las Vegas trips were cited a reason when Jefferson was arrested in February for violating his bond agreement. After that arrest, Jefferson told an IRS special agent that he had spent or gambled away all of the money he took to Las Vegas, the court records say.
Casino records allegedly uncovered in the case from the Aria and Bellagio casinos show that Jefferson "played every day he was in Vegas" and "took full advantage of his 'high roller' status and received significant benefits." But he lost only about $437,000 gambling, according to court records.
Jefferson's brother, referred to in court records only as J.W.J., recalled Jefferson appeared happy in Vegas and told J.W.J. "cash is heavy" on his final return trip from Vegas just days before his guilty plea.
As he was building the alleged stack of cash, prosecutors claim Jefferson was also making plans to flee to England using his brother's identity. They say Jefferson forged driver's license from several states with J.W.J.'s personal information but Jefferson's own photograph.
He used a fake Arkansas ID, prosecutors say, along with his brother's name, date of birth and U.S. passport number to book a one-way flight with a private jet company for Nov. 2 to Cranfield, England.
The charter company representative who handled Jefferson's transaction said he "asked several detailed questions about clearing United Kingdom customs." The day before the scheduled flight, the agent called "who she believed to be J.W.J." to say a HM Customs and Excise officer would board the jet to inspect his passport.
The next day, just hours before scheduled take off, Jefferson called and canceled the $75,000 trip, prosecutors allege, citing a "family emergency."
According to court records, Jefferson's brother discovered the fraudulent identification and turned the information over to investigators. The brother said he had no knowledge of Jefferson's plot to use his identity to flee, the court filing says.
Another associate of Jefferson's, an unnamed C.A. in the filing, led investigators to a camouflaged 8-inch piece of PVC pipe in an alley behind Jefferson's home after a recorded jail call in February. During that call, Jefferson allegedly asked C.A. to dispose of the pipe "at the business office, located several miles from Jefferson's residence."
On the same day as his December guilty plea, prosecutors allege, Jefferson instructed C.A. to buy some PVC end caps. In their most recent set of allegations, prosecutors include a receipt dated Dec. 20 for four 6-inch and four 8-inch PVC end caps.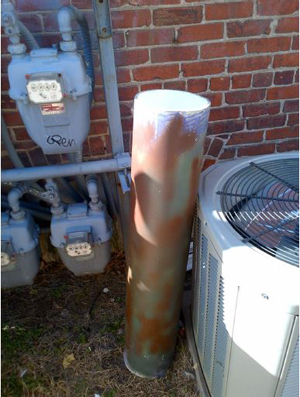 They say investigators recovered four 6-inch end caps after an April search of Jefferson's residence but only two eight-inch caps, both painted brown. Friday's filing says investigators also retrieved $50,000 that was allegedly hidden in Jefferson's house during the same search.
Meanwhile, prosecutors say, Jefferson has not made any payments towards the nearly $13 million worth of restitution he agreed to pay in his December plea agreement.
The terms of that agreement included that Jefferson would liquidate real estate holdings to raise restitution money and report to the IRS any real estate or monetary transfer in excess of $25,000.
Prosecutors indicate they will bring additional charges against Jefferson in the near future, the filings state.
Once the next round of charges is resolved by either plea or trial, prosecutors will ask the court consolidate all the charges and pleas into a single sentencing process, court filings state.
Jefferson was first arrested about one year ago and has pleaded guilty to wildly inflating construction costs on several apartment rehab projects in an effort to gain fraudulent tax credits for the jobs. All told, Jefferson took nearly $13 million worth of state and federal tax credits.
Jefferson is currently being held at Pamunkey Regional Jail awaiting May 9 sentencing. That date would almost certainly need to be pushed back if new charges are brought.
Michael Gill, an assistant U.S. attorney prosecuting the Jefferson case, did not return a phone message seeking comment by press time.
For previous coverage, follow the following links:
Bank aims to halt Parachute Factory's free-fall
Court places more of developer's properties in receivership