Sixteen Richmond physicians each received more than $1 million in Medicare reimbursements in 2012, according to recently released data from the federal government.
The payouts were disclosed earlier this month by the government's Centers for Medicare & Medicaid Services (CMS). The data, which names doctors individually, sheds some light on how money cycles through at least that part of the health care system.
The CMS data includes numbers for more than 880,000 health care providers who collectively received $77 billion in Medicare payments in 2012 under the Medicare Part B Fee-For-Service program. The data was released in an effort to increase transparency, the government said.
Dr. James Urso, an interventional radiologist who practices at 2235 Staples Mill Road, topped the local list with a reimbursement of more than $8.17 million. His practice declined to comment.
Some medical professionals say the numbers are misleading and do not represent how much a physician actually makes.
Tom Gallo, executive director of the Richmond-based Virginia Cancer Institute, said transparency is good, but Medicare's "data dump" doesn't give consumers any useful information.
"I think there are a lot of problems with (the numbers), particularly when it deals with oncology," Gallo said.
Four Virginia Cancer Institute physicians were paid back more than $1 million each from Medicare in 2012, according to a database The New York Times created from the government's numbers.
Gallo said the government's totals don't show that a lot of the reimbursed money was spent on expensive drugs for patients.
"Particularly, when it comes to oncology, those numbers include chemotherapy drugs which we have to purchase and pay for. It doesn't take into account the cost of the drug," Gallo said.
Newer chemotherapy drugs can cost tens of thousands of dollars or more. For example, Provenge, a prostate cancer drug, costs $95,000 for three treatments, he said. Doctors pay for the medicine up front and are later reimbursed by Medicare.
Gallo said the numbers can also be deceptive because, in some practices, Medicare reimbursement requests are submitted in the name of the doctor who supervises a chemotherapy session one day but may not be the patient's attending physician.
For example, Drs. James Khatcheressian and Elke Friedman, who work out of Virginia Cancer Institute's busiest office in the West End, supervise chemotherapy more often than other doctors in the practice who work more out of the hospital. That's why their Medicare reimbursements are so much higher, Gallo said.
Khatcheressian's reimbursement in 2012 was $2.2 million – the third-highest among Richmond doctors – and Friedman's was $1.692 million, ninth on the list.
Many local physicians who received the highest Medicare reimbursements work in specialties –
such as oncology, rheumatology and ophthalmology – that have a large number of older patients and use expensive drugs.
Twelve of the 16 in the Richmond region who were reimbursed more than $1 million are in oncology or ophthalmology.
With the exception of Virginia Cancer Institute, the other local physicians and their offices did not return calls for comment or declined to comment.
Both the American Society of Clinical Oncology and the Association of Community Cancer Centers came out in opposition of the CMS data release.
"This data release solely focuses attention on the dollars paid to practices for the medical care and treatment of patients on Medicare, rather than contributing to the ongoing national conversation about value and quality in health care," the ASCO said in a press release.
The ACCC called the data "more of a disservice to the public than a service."
The American Academy of Ophthalmology also released a similar statement:
"Ophthalmology has one of the highest practice overhead costs of any medical specialty, including staff, technology and equipment. For many practices, a significant portion of Medicare reimbursement goes to cover these costs, but the payment data released reflect only the gross payments and do not account for those expenses."
The following Richmond-area physicians received more than $1 million in Medicare reimbursements in 2012, according to a New York Times database compiled from the data released by CMS: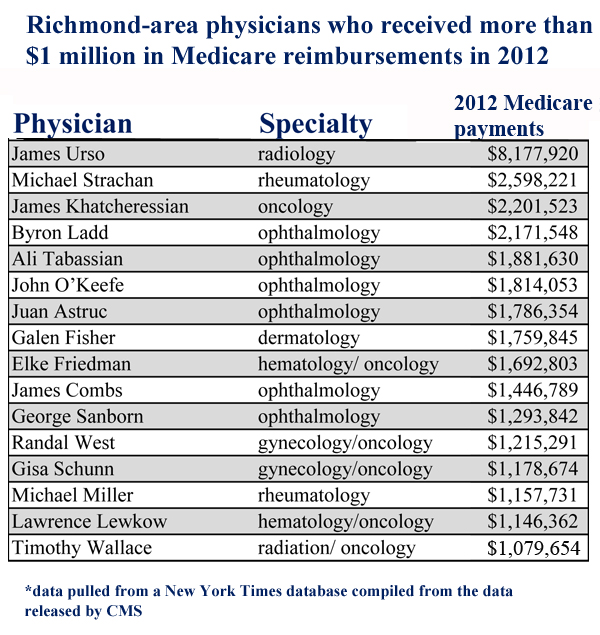 Read more: Hear from one of the highest reimbursed doctors nationwide.