A posh Goochland County neighborhood is growing again.
Kinloch, a high-end housing development near West Creek in Manakin-Sabot, is about to start its eighth section. Local builder Boone Homes has claimed all 76 lots in the new phase that abuts Kinloch's 72-acre lake, said Marshall Bowden, vice president of Kinloch Development Corp.
The new houses will be built across 58 acres and will range in price from $600,000 to $1 million, Boone Homes President David Owen said. The square footage varies accordingly, starting out around 3,500 and going as high as almost 5,000.
Over the past year, Owen said, Boone Homes has sold nearly all of its inventory in Kinloch's Section 6, so the company is ready to get started on a new section.
"We have seven [homes] left to sell there," he said of Section 6. "They will be sold out before the lots are on the ground in Section 8."
Owen said the new houses will be similar to the coach-style homes in Section 6. Maintenance of the outside of the house and the lawn is taken care of, so homeowners don't have to worry about mowing, raking leaves or shoveling snow.
"It's an age-targeted product for empty-nesters," Owen said.
Of the 76 lots, 15 are right on the lake, and another 12 have lake views, he said.
Boone Homes is working on new designs for the new phase of houses, which will include brick colonial and Tudor styles and will all have first-floor master suites. The houses on the lake will be the largest, Owen said.
Boone Homes hopes to get started on its model home in the late fall and open by the spring 2015.
Bowden said Kinloch still has another 60-or-so undeveloped acres.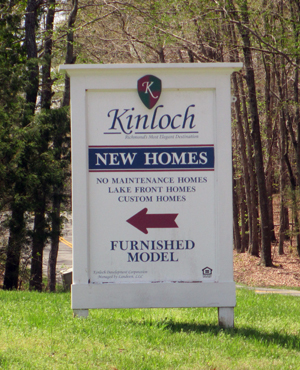 The community is located between Kinloch Golf Club and Hermitage Golf Course. Construction on the first phase of homes in Kinloch began in 2003, Bowden said. The property is zoned for 350 houses. About 142 houses have been built, and another 12 are under construction. An additional three dozen lots are ready to be built on.
"We really haven't done anything since 2006," Bowden said. "We feel like the market has hopefully revived."
Bowden said houses already built in Kinloch range from 2,800 to as large as 6,000 square feet. Houses currently listed for sale there are priced as high as $1.79 million, according to the community's website.
Other Kinloch builders include W.B. Bill Garrett, John W. Montague Jr. and Sons, and Thomas G. Seaborn and Sons.
Kinloch Development Corp. develops the lots and then sells them to builders. Goochland County already has approved the eighth section of Kinloch. Bowden said the company did not need to obtain outside financing to develop the new section.
"One of the things we did during the downturn, we were able to build the property with very little debt and, at this point, our development doesn't have any debt on it," he said.