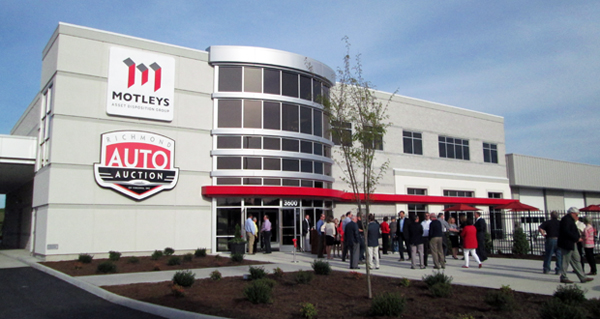 A local auction and real estate firm has a shiny new home and a new umbrella identity.
The newly coined Motleys Asset Disposition Group — previously Motley's Auction & Realty Group — on Thursday showed off its new $4 million, 30,000-square-foot headquarters.
The property sits on 38 acres at 3600 Deepwater Terminal Drive, across Interstate 95 from the Phillip Morris plant. It is marked by Motley's recognizable big-rig in the sky.
The new facility gives Mark Motley, the company's owner and president, more room to run the cache of businesses that operate under his name.
With the unveiling of its new home, Motley also rolled out the new Motleys Asset Disposition brand, a sort of parent company moniker. The company's various arms include the Richmond Auto Auction, Motleys Real Estate Auctions, Sperry Van Ness/Free Markets CRE, Keller Williams Residential RE, Fortis Foreclosure Services, Motleys Industrial Auctions and Appraisals, Motleys Equipment Sales and Motleys Estates.
The new facility consolidates several sites where the firm had operated. That includes a 17,000-square-foot office at 4402 W. Broad St. and an 18,500-square-foot building next to the new space at Deepwater Terminal Drive.
Motley said the company is negotiating leases with tenants to take over the two buildings. Interest has come from all sorts of businesses, including mechanics, body shops, transportation companies and lawn care companies.
Motley announced the project last summer. Richmond-based Century Construction and Landfall Construction worked the project. Jack Shady of Freeman & Morgan Architects designed the building, which includes seven lanes for auto auctions, training facilities, a telemarketing center, a marketing and graphics department, a customer service center and a cafe.
Motleys held its first auction at the new building last week and had another over the weekend.