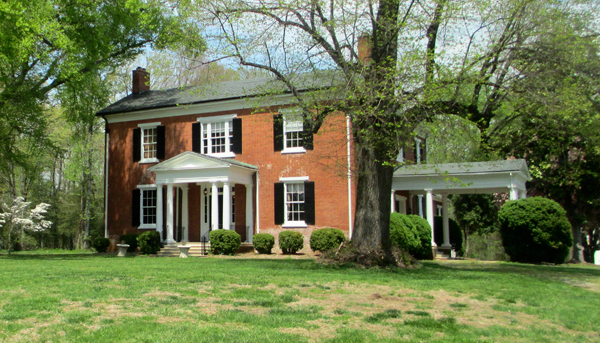 The 18th-century home of a member of one of Virginia's first families can be yours for $1.19 million.
Mill Quarter Plantation, a 3,761-square-foot home located on 22 acres at 1600 Mill Quarter Road in Powhatan, went on the market this month. Sherry Gilliam of Long & Foster is the listing agent.
"This is not something that comes along every day," Gilliam said.
The estate is rich in Revolutionary War-era history said its owner, history buff Werner Gutmann.
Peyton Randolph of Wilton, a member of Virginia's storied Randolph family, and his wife, Lucy Harrison Randolph, built the home – then called Fighting Creek Plantation – in 1770, according to a history of the home Gutmann wrote.
The property was part of a 7,000-acre land grant from England's King George II to Peyton's grandfather in 1724.
"Virginia was basically settled by the Randolphs," said Gutmann, who owns the house with his wife, Roseanne. "As the story goes, you couldn't cross Virginia without crossing Randolph land."
Peyton served in the Continental Army during the Revolutionary War and was an aide to Marquis de Lafayette, Gutmann said. The uncle for whom he was named was the first president of the Continental Congress, according to history.org.
Lucy Harrison Randolph's family history is equally grand. Gutmann's history notes that her nephew, William Henry Harrison, became a U.S. president in 1841.
In 1831, the plantation was sold to Hillary Harris, a Powhatan magistrate, who gave it its current name. The Harris family lost the estate after the Civil War because of a tax debt, and it fell into disrepair, Gutmann said.
Borie Bohlen, bought it in 1931 and restored it to its former glory, the house's history said. Much of the plantation's land was sold in the 1970s to make way for Mill Quarter Plantation Golf Course and the Mill Quarter subdivision. The Gutmanns bought the house in 2004 and extensively renovated it, mixing its historic features with modern comforts.
The four-bedroom house has three full and three half-baths, six working fireplaces and original heart pine floors on the staircase. The property also has an in-ground pool and a renovated guest cottage.
"I think it's going to take the right buyer," Gilliam said. "It's not like listing your house in Wyndham or Twin Hickory."
Gutmann grew up in Germany and moved to the U.S. officially in 2001 to establish a Richmond branch for PARI, a German respiratory equipment company.
He and a partner later started their own company, PharmaCaribe, which develops pharmaceutical and medical products. Because the company is located in Florida, Gutmann and his wife decided to move to the Sunshine State full time and leave Mill Quarter behind.
"It was a difficult decision," Gutmann said. "I grew up in Bavaria in Germany, close to mountains and hills, so I like the Virginia landscape."