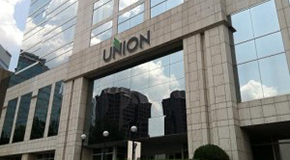 In its move to change the name of its holding company, Richmond's biggest bank looked to the past.
The parent of Union First Market Bank officially changed its name Friday to Union Bankshares Corp. The rebrand does away with the mouthful that was Union First Market Bankshares and is a precursor toward a broader brand shift for the bank overall.
Union Bankshares was the name used by the company before its 2010 acquisition of the former Richmond-based First Market Bank. Union has since acquired Christiansburg-based StellarOne Bank in a deal that created the largest bank headquartered in Virginia.
Later this year, the company will rebrand the bank as Union Bank & Trust, another blast from its pre-merger past. Its 131 branches and its broader marketing efforts will simplify the brand further, using just "Union" as the more public moniker.
Union spokesman Bill Cimino said the rebrand was necessary to reduce confusion and to help emphasize the piece of the bank's name that seemed to have caught on the best.
"We've been out doing market research," said Union spokesman Bill Cimino. "The Union name resonates a lot more than Union First Market."
And after all, Union First Market StellarOne would have been even more of a mouthful.
Next week is also a big week for the bank as it will do away with the StellarOne name at about four dozen StellarOne branches across Virginia. Those locations will close at the end of the day on May 9 and reopen as Union branches the following Monday.
"May 12, you pull the rope and they become Union," Cimino said.
Union added 54 StellarOne branches to its 90 storefronts as part of the acquisition. Thirteen of those will close May 9 as part of merger-related restructuring. They include StellarOne Richmond-area locations at Patterson Avenue and Robious Road.