A French and Belgian restaurant is closing up shop on the Southside, but its owners won't be retiring anytime soon.
Belle Vie European Bistro at 1244 Alverser Plaza served its last meal May 17. Owners Yves and Karine Danis and Stephanie and Xavier Meers opened the restaurant in 2009 and said the closure was related to its lease.
"We were negotiating with the landlord and the terms were not favorable, so we decided to close," Yves Danis said.
The 4,650-square-foot property, along with the rest of Alverser Plaza, is owned by Alverser LLC, according to county records. The shopping center is managed by Thalhimer | Cushman & Wakefield.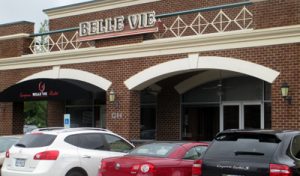 Danis said for now there aren't any plans to reopen Belle Vie in a new location.
As the quartet of restaurateurs winds things down in Midlothian, they are cooking up another project in the Fan.
In March, they leased a 1,500-square-foot restaurant space at 1731 W. Main St., where they plan to open Brux'l Café. The Belgian eatery is set to open May 22.
Though Belle Vie may be moving out, Alverser Plaza just had a new tenant roll in. Conte's Bike Shop last month opened in the shopping center. It's the chain's third Richmond location.