A mobile food peddler is learning what it's like to be stationary.
Goatocado, a mobile food and catering business, opened this week inside Carytown Bicycle Co. at 3112 W. Cary St. And Carytown Bicycle owner Tim Mullins gave Goatocado a great deal on its first stationary location: zero rent, at least starting out.
Chris Gayler, 26, a Goatocado co-owner, said being in the Carytown bike shop is a great way for a 3-year-old company to get its feet wet with a storefront setup.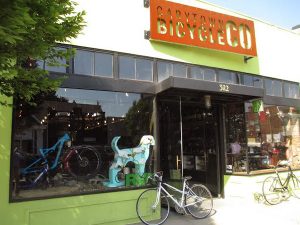 "We're doing a trial period," Gayler said. "We'll be here as long as it works for both parties. We'd like to be here forever."
Goatocado serves mostly bowls of quinoa blended with vegetables, fruits and spices. When it's not slinging meals in Carytown, it serves its food around town from a cart, trailer, moped or festival tent. For its commissary, Goatocado uses a kitchen inside a Midlothian restaurant. Bowls of quinoa cost $7.50 to $8.50.
This isn't the first trial run for a local food vendor inside Carytown Bicycle. Kyra Oliver sold frozen fruit blends inside the space last fall and winter.
Mullins said he brought in Goatocado because it has multiple options on its menu and sharing a space is mutually beneficial for both businesses.
"We draw on a similar demographic," Mullins said. That demographic includes "people that are into a healthy lifestyle and clean eating."
Ian Newill, 27, and Jarret Evans, 24, launched Goatocado in 2011 to add healthier options at music and arts festivals. The name combines "Old Goat," the nickname of Newill's grandfather, with "avocado." The company has grown to four full-time employees and will add more this summer to help with festival vending.
Goatocado is open at Carytown Bicycle Tuesdays through Sundays, from 11 a.m. to 2 p.m.
Gayler said Goatocado is working on opening inside a downtown business, but he wouldn't say where.
"The way we're expanding is with little kiosks and cafes," Gayler said. "These kiosks are a great transition between the mobile game and an actual brick and mortar."