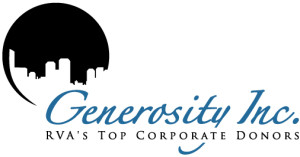 It's not often that we use this forum for call to action. We're usually too busy hunting down news.
But we're on a mission to build something – and we need your company's help.
BizSense is gathering information for our newest list. It's called Generosity Inc.: RVA's Most Charitable Companies. The mission is to highlight the philanthropy and good deeds of local businesses and shine a light on the charities and nonprofits they support throughout the year.
And the deadline is May 29.
The ultimate goal of Generosity Inc. is to paint a complete picture of how success of the local business community is shared across the region. When a business thrives and gives back to a nonprofit, that money filters into the community through the charity's mission – and the cycle continues.
The more companies we have on this list, the more accurate a portrait we can paint.
So far, banks, law firms, accounting firms, marketing agencies, restaurants, hotels, retailers and architects have participated, and they encompass both small businesses and larger corporations.
But we want this list to be bigger, and we have only a week left to gather surveys.
Please don't be bashful or too modest. This is not a time to be outshined by the competition. Whether your company gave $150, $150,000 or $1.5 million, being part of the list is what matters. Besides, a little recognition for good deeds never hurt anyone, and it might inspire the generosity of others as well.
Please remember, there's only one week left to participate in our brief survey.
If you're the big boss at a company that hasn't yet filled out the survey, we encourage you to have your business participate.
If you're in charge of a company's giving programs, please encourage your organization to be on the list and make a case that this is an important survey to be a part of.
Simply follow the link to fill out the survey by May 29.
Thank you for your time (you can get back to reading the news now) and your participation. We hope to see you on the list.