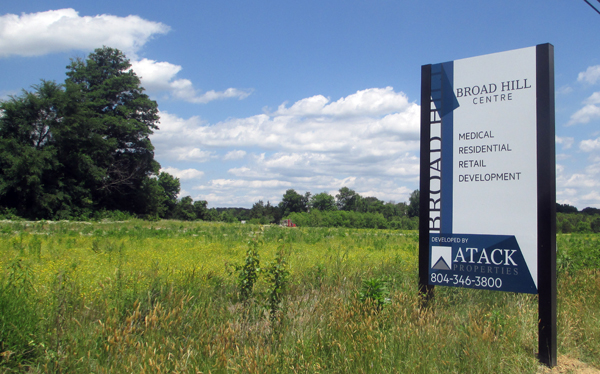 A major Short Pump development three years in the making is nearly ready to rise.
Steven Middleton of Commonwealth Properties plans to break ground in July on a $45 million West Broad Street apartment complex. It's the first of four main pieces in the works at Broad Hill Centre, a 70-acre, medical mixed-use project being master-planned by Atack Properties.
"Atack is doing the mass grading, and we would hope to pick up sometime around the first of July where they are leaving off and begin our site work," Middleton said.
The apartments will be in a cluster of about 15 two-, three- and four-story buildings. Middleton has 320 units planned along with two swimming pools, a playground, community center and two-story exercise facility. Units will rent from $1,200 to about $1,800 per month, he said.
Middleton is under contract to buy about 20 acres for the project. He expects to close in a couple of weeks.
Middleton struck a deal with Atack Properties to develop the apartments last year after approaching then-company head Bob Atack about buying the land.
"There are not a whole lot of zoned apartment sites in western Henrico County, so I think there's a cap on the supply and there," he said. "And I thought Bob would do a great job with the whole development."
Middleton's apartments are the first big piece of Broad Hill Centre to begin moving dirt. Atack Properties this month submitted plans for three other Broad Hill Centre developments: a Bon Secours medical center that will anchor the project, a condominium development and a townhome neighborhood.
Middleton's apartments, at the northeast corner of Broad Hill Centre, are just north of a planned two-building, 170,000-square-foot Bon Secours medical park. Site plans show a pair of medical office buildings and 900 parking spaces. The larger of the two is a four-story, 106,700-square-foot building. The other building runs three stories and 72,900 square feet.
Spokeswoman Charlotte Perkins did not return email and phone messages by press time to discuss Bon Secours' plans. Rick Melchor of Atack Properties said the larger building would have a stand-alone emergency room on the ground floor with three upper floors of office space.
The condominium section is named Saunders Station at Broad Hill Centre and will include more than 325,000 square feet worth of condos split among 13 buildings.
The townhomes are dubbed The Townes at Saunders Station: 76 residences on lots ranging from 1,900 square feet to nearly 4,000 square feet. The Saunders name is a nod to Robert Hyde Saunders, a Revolutionary War veteran who owned hundreds of acres between what is now Three Chopt Road and West Broad Street. A cut-down water pump at a Saunders-owned tavern gave Short Pump its name.
Melchor said Atack Properties will develop the roads, water and sewer before planning to sell the two sites to homebuilders. He guessed the condos would start at about $300,000 apiece with the lower end of the townhomes going closer to $350,000.
Atack Properties' Cory Atack added that the site also has three retail out parcels available, but their development will come after the residential and office sections.
"We're going to wait to put our retail sites on the market until things start to go vertical," he said.
In 2011, shortly after buying the 70-acre Broad Hill Centre parcel, Bob Atack told BizSense the entire project could run near $100 million. Bob Atack died earlier this month.
The apartment project is the next piece in Short Pump's march westward, which includes plans for hundreds of millions more development dollars between Gayton Road and the Goochland County line.
On the southern side of Broad Street, Markel | Eagle Partners is putting in 300 townhomes and detached residences and up to 224,000-square-feet of commercial space at its GreenGate development. Just west of GreenGate, 254 apartments and a Medarva-anchored medical office building are under construction at the Notch at West Creek.
To Atack's immediate east sits West Broad Marketplace, a planned retail development with grocer Wegmans and outdoors store Cabela's already signed on as co-anchors. West Broad Marketplace is being planned in chorus with the Atack development, and each will provide access to the other.
"You can walk to Wegmans and walk to restaurants from where we are, so I think that's a huge advantage for the people who will live at our project," Middleton said.