Thousands of office workers are expected to loosen their ties and kick off their heels tonight for this year's corporate running contest.
Local race promoter and organizer Sports Backers will put on its annual Connects Federal Credit Union Corporate 4-miler this evening, a run and happy hour that winds its way through the Innsbrook office park in Henrico County.
Now in its fifth year, the Corporate 4-miler is bigger than ever. About 4,500 people are expected to take part in this evening's event, said Jon Lugbill, Sports Backers' executive director. That's about six times the number of participants in the 2010 race.
"People are looking for ways to engage and network that also promote wellness," Lugbill said. "It's a way 4,500 people can do a golf outing without the expense."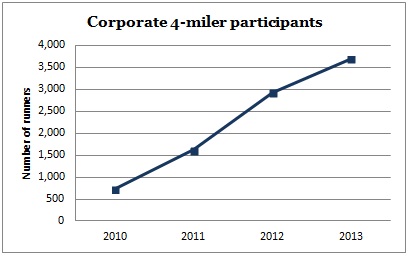 Lugbill wouldn't say what it costs to put on Richmond's so-called "biggest office party." He did say it took three years for the event to begin paying for itself.
"Some of these things are growing fast, but their big profitability comes later," Lugbill said of fitness events.
Lugbill said events take time to build the kind of momentum that's behind tonight's corporate 4-miler. It's seen a participation growth rate of more than 500 percent since its first year.
Sports Backers is a nonprofit founded in 1991. It now runs 15 events in the area, including the Anthem Richmond Marathon and the Ukrop's Monument Avenue 10k.
The organization brought in $5 million in revenue in 2011. The following year that figure jumped to $6.2 million, and Lugbill estimates revenue will be just shy of $7 million for fiscal year 2013-14.
The marathon and the 10k make up more than half of Sports Backers' revenue from events, Lugbill said.
The organization has 23 employees and is looking to hire three more.
The corporate-focused run offers a separate division just for CEOs that will give them the chance to see how they compare to their peers. Last year's first place CEOs were Laurie Mehler of Richmond MultiSports and Alan Pietruszkiewicz of Physical Therapy Solutions.