After a bumpy first year, a Richmond bus tour business is rolling into the summer with a new game plan.
DayTour Sports, a Richmond-based company that arranges day trips to nearby attractions, launched last summer with travel packages to Washington and Baltimore baseball games. The packages included transportation, game tickets, a boxed lunch, and a raffle ticket. But the company had to cancel several early trips due to lack of interest.
"We were just posting events and praying," said Rick Applegate, who co-founded DayTour with Greg Brown.
Now it's shifting towards a private event model with an eye on more custom outings for smaller parties. It putting together a slate of trips in 2014 that will include winery and brewery tours as well as golf outings.
DayTour has done about 10 such trips this year and are chartering a private golf trip to The Royal Virginian in Haydensville on June 15.
"I knew once we started that we could do any kind of trip," Applegate said. "Now it's just about getting the word out to people that we can do anything."
But sporting events are still a crucial part of getting the company's name in front of potential tourists.
Last year, DayTour bought a $5,000 ad with Virginia Commonwealth University men's basketball program last season, their largest single investment in the business yet. Applegate said he and Brown have only invested about $10,000 in the company to date.
The VCU deal scored DayTour the title of official VCU men's basketball tour bus, a table at home games, advertisements at the Siegel Center and the chance to carry VCU fans to six away games.
DayTour organized buses to a November game at the University of Virginia and four Atlantic 10 conference games, and it sold out a trip to the conference tournament in New York this March. Applegate said he's working on renewing DayTour's deal with VCU for the coming school year.
DayTour is still working on improving their baseball game business.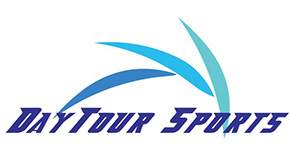 Only about 10 people registered for an upcoming Baltimore Orioles game out of the 25 it takes to fill a bus. DayTour took the trip off its site, and the group that signed up will get a private trip instead. That game is later this month.
DayTour also booked a private baseball trip for a group out of the Tidewater area, and Applefate said the private tour model could take hold for sporting events off if he can get the DayTour name in front of enough fans.
"It's spreading by word of mouth, more than anything, and just people coming to the website," he said.
The next baseball games DayTour will try to book will be a Sunday Washington Nationals game in July and an Orioles game in August before it rolls into football season. The baseball packages cost about $110 each, and fans have the option to buy their own game tickets and use DayTour for transportation only for a lower price.
"It's a little tougher sell than football but there's still a lot of baseball fans in Richmond," Applegate said.
Football is also on its radar. DayTour filled a bus to FedEx Field to watch the Washington Redskins play the San Diego Chargers last season. Even though the company had to buy tickets for the sold-out game at a marked-up price, it was its most profitable trip.
"You can buy the tickets day of, so getting them wasn't a problem at all," Applegate said. "And it shouldn't be this year either with how the Redskins did last year."