A Richmond businessman turned federal inmate is offering a glimpse behind prison walls.
Getty "Andy" Rothenberg, who is serving a nine-month prison sentence for defrauding a rock star client, is blogging with the help of a prison consultant about his time and experiences in a correctional facility in Hopewell.
Rothenberg talked with Richmond BizSense about the blog posts – his journals, as he calls them – in recent telephone interviews and emails from the minimum-security Federal Correctional Institution at Petersburg.
"It was cathartic for me just to write down my goals, so I could be accountable," he said. "It's kind of morphed into this."
The 40-year-old Richmond resident and St. Christopher's School graduate has been blogging since February when he entered prison.
He landed there after federal prosecutors accused him in 2013 of skimming money while handling the finances of Boyd Tinsley, a Dave Matthews Band member and Charlottesville resident. Rothenberg pleaded guilty to wire fraud and was ordered to pay $1.25 million in restitution.
He is scheduled for release in late November, according to federal Bureau of Prisons records, with another nine months of home confinement to follow.
Rothenberg posts on etikallc.com, a site run by a California prison consultant. His blogs range from everyday prison happenings to more introspective posts about doing time.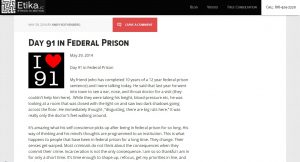 One day he complained about prison chow, pining for the days when he ate organic steak from Whole Foods. Another, he chronicled the experience of trapping groundhogs as a member of the prison's landscaping crew.
Often he writes about setting goals, keeping busy, staying out of trouble and missing his family.
Rothenberg has written about 25 blog posts since late February.
"The theme or goal of my blog is still evolving," he said in an email. "Sometimes I feel the need to open up about my past behaviors that helped lead me to prison … On other days, I simply feel the need to write about the food, my job or a book I am reading."
The facility where Rothenberg is held has tennis courts, a gym, a track, an indoor basketball court and cable TV. He's not locked up in a cell behind steel bars, and there are no skyscraping electric fences. Rothenberg said he likes his fellow inmates.
To prepare for the prison experience, Rothenberg did a lot of internet searches from his "man cave" in his house in Richmond. They led him to Justin Paperny, a California stockbroker convicted of fraud who now works as an author, motivational speaker, and prison consultant. His website hosts blogs from inmates all over the country.
Rothenberg emails Paperny his journals and Paperny posts them online.
Rothenberg said he didn't know what a prison consultant was at first. Paperny said he gives his clients an idea of what prison is like and helps inspire them to set goals to make the most of their time inside.
Neither Paperny nor Rothenberg will say how much prison consulting services cost. But Rothenberg said they have helped him immensely. The two have kept in constant contact during Rothenberg's incarceration.
"Prior to my surrender, I was mildly obsessed with what prison life would be like," Rothenberg said. "What I should have been doing was focusing on the many tasks that awaited me prior to my surrender. Working with Justin finally helped me do that."
Rothenberg said he's working on turning his blogs into a book.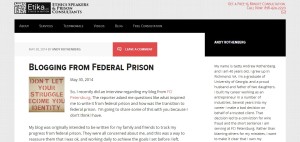 "Writing this blog gives me the opportunity to properly document this experience in my life," Rothenberg said in an email. "By writing about it, perhaps I can provide a snapshot of what my life and other lives are like. The primary reason, however, was to try and show those who believe in me that I was making the most of my experience. This experience has not been easy, and blogging helps me find some meaning."
Rothenberg pleaded guilty in 2013 and admitted he did committed wire fraud, but he said he didn't realize he was committing a crime.
"I was not as contractually sound as I should have been," he said in an email about his dealings with Boyd Tinsley. "We always had a loose financial relationship. If I knew I was committing wire fraud, I clearly would not have done it. As proof, I paid taxes on every single penny 'I stole.' Thieves do not file taxes."
Paperny said Rothenberg's blog has gotten positive feedback. Rothenberg said he's heard from at least one person about to begin serving a prison sentence who said the blog helped him prepare.
"You're either going to step up to the plate and release a better person or you're going to sit in your bed and turn into a worse person," Rothenberg said.
"Before I came in I was much more arrogant. This process slaps you right out of that in a heartbeat," he continued. "It makes you realize all the things you've taken for granted."