Under a change in state law last month, Richmond nonprofits now have easier access to a new pool of hundreds of properties around the city of Richmond for potential acquisition and renovation.
A bill was signed into law last month that allows Richmond, as well as five other cities in Virginia, to sell excessively tax-delinquent, vacant properties valued up to $100,000 directly to nonprofits that will use them to create low-income housing.
The previous rules limited the value of such properties to $50,000 and allowed them to be sold to anyone. The new law also reduces the amount of a property's tax delinquency as a percentage of its total value required by for a sale by the city.
There are already about 200 properties in Richmond – mostly houses – that meet the law's new provisions, said Dan Cohen, a senior project manager for the city.
They add to a list of about 420 delinquent properties that are valued at $50,000 or less and could be sold to nonprofits before the change.
"It opens up the pool a little bit," Cohen said.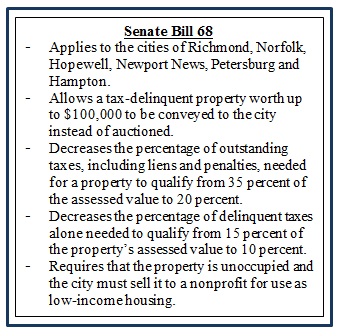 The sale of these delinquent properties begins with the city finding the owner and giving him or her the choice to pay the taxes due or surrender the property. If the owner surrenders it, the property can be sold by the locality, avoiding a tax auction.
Local nonprofits like Richmond Metropolitan Habitat for Humanity and Better Housing Coalition, which specialize in building affordable housing, can then buy the houses at lower-than-average prices, fix them up, and sell them to residents making less than the median income, which also gets them back on the city's tax rolls.
Cohen said the city hasn't set prices for the newly available properties, but he thinks they'll go for reasonable rates.
"The goal would be to sell them for next to nothing because the purpose is to provide affordable housing," he said.
Residents who buy vacant properties at auction – the standard way of selling forfeited real estate – often get a good price. But Cohen said many sit on the properties, paying taxes on them but not making any renovations.
"Only a small percentage of those who bought properties at auction actually pulled permits," he said.
The new law looks to limit that practice by getting the properties into the hands of nonprofits that turn around properties.
Local nonprofits have already taken an interest in the newly available land.
Richmond Metropolitan Habitat for Humanity has been scoping out vacant properties on North 35th Street in Church Hill, an area where the organization is already building houses.
Jack Thompson, Habitat vice president of construction and land acquisition, said he and other nonprofit housing representatives met with city officials on North 35th Street to discuss options for renovating blighted, vacant houses around Richmond.
"We were standing here trying to figure out what we could do with all of these tax delinquent properties," Thompson said. "How are we going to do it so we can afford it?"
That discussion led to lobbying for a law change. Thompson said Jeff Palmore, a lobbyist with Reed Smith, helped with the bill, and State Sen. Henry Marsh III of the 16th district sponsored it.
Gov. Terry McAuliffe ceremonially signed it into law June 13 at the construction site of Habitat's Church Hill house.
"It provides homeownership opportunities to families in the areas they want to live," Thompson said. "We can acquire more properties and serve more families."
Historic Richmond Director Mary Jane Hogue said they are reviewing the law to see if there is a way they can use it in their work to preserve historic structures.
Other local nonprofits that could make use of the law change include project:HOMES, Urban Hope, Community Housing Partners, and Southside Community Development and Housing Corp.
Downtown-based Better Housing Coalition is another organization that sees an opportunity in the new law. Greta Harris, president and CEO of Better Housing Coalition, said once the organization whittles down its current inventory of properties, it plans to pursue more under the new program.
"We're seeing (housing) prices go up, so the need to preserve and create affordable housing will be more important than ever," Harris said. "Having a bill like this that allows us to take properties that were once liabilities and to be able to acquire them and turn them into an asset in their neighborhood is a very positive step forward."