A local real estate startup is seeing dollar signs as upcoming changes to federal regulations could soon make it easier for small businesses to raise capital.
Allegiancy, a spinoff of a Richmond real estate investment firm, is preparing for a $50 million capital raise beginning this fall. CEO Steve Sadler said the company will try to build an acquisition war chest by taking advantage of long-awaited Securities and Exchange Commission rule changes. The SEC is expected to smooth the process for small, private companies to pitch investors through limited public stock offerings.
Allegiancy describes itself as a business manager for leasable real estate. The company oversees property management, leasing, construction, financing and other day-to-day operations of a building for the property's owner.
It's a sister company to the REVA Cos., a group of real estate-related firms headed by Sadler and his brother Chris that includes a real estate investment banking arm and a REIT the firm hopes to take public in the next few years.
The brothers launched their first asset management company, REVA Management Advisors, in 2006 to manage properties they owned through REVA Cos. In 2009, Steve Sadler said, the management firm began taking on business from other property owners.
"There were a lot of owners that were getting crushed because the operational side of their assets was not being attended to," Sadler said. "We thought it was an opportunity to gain the diversification of exposure to real estate without the volatility of real estate ownership."
The Sadlers spun Allegiancy off of their REVA Cos. in 2013 after buying out and absorbing REVA Management Advisors' assets.
Allegiancy has about $300 million worth of real estate assets under management. About two-thirds of the company's asset value comes from properties owned through REVA Cos. The remaining value is from management contracts with outside property owners.
Allegiancy has another $115 million worth of new management contracts scheduled to close in September, which will put its total management portfolio at about 4 million square feet.
The company's expansion plan involves buying out more management contracts, a move that requires plenty of capital.
The company raised its first $5 million in April in a limited public offering to investors through an SEC-governed process known as Regulation A. Regulation A is an exemption that allows companies to sell shares publicly under simpler and less expensive reporting standards than the SEC typically requires.
Under Regulation A, however, a company can raise no more than $5 million in a year.
In December, the SEC released plans to boost that limit to $50 million under a new system known as Regulation A+.
Sadler said the new program will allow for an important new source of capital for some businesses, including Allegiancy.
"There are any number of companies in Richmond or elsewhere that have no ability to access capital," Sadler said. "Banks don't lend to companies, and if they do, they want your personal guarantee and your wife's so they can get to your house, your car and everything else."
Regulation A+ will require heightened reporting standards but will not reach the same disclosure requirements imposed on publicly traded companies. For example, Regulation A+ offerings will need annual reports with audited financial statements, an increase in reporting requirements from Regulation A.
Regulation A+ rules that were proposed by the SEC but haven't been finalized would also effectively prevent state securities regulators from rejecting an offering after it passes SEC qualifications. Currently, a company has to run its plan by regulators in each state where it hopes to sell.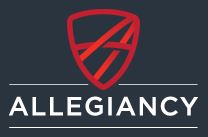 "If you go to Virginia and they say 'sure,' then Pennsylvania says 'sure' and New York says you have to change paragraph three, then you have to go back to Virginia and Pennsylvania and ask 'is that okay?' and that can take literally a year," Sadler said.
Regulation A+ will also open such investments up to all investors, as opposed to being limited to only accredited investors of a certain net worth.
After Regulation A+ goes into effect, Allegiancy wants to raise $20 million in what's left of 2014 to buy more management portfolios. Sadler is predicting that a successful $20 million raise could push Allegiancy's assets under management to more than $3 billion.
Sadler estimated that major institutional investors with their own asset management operations control about 30 percent of what he sees as a $15 trillion commercial real estate market. Allegiancy wants to stake its claim in the remaining portion by adding contracts with smaller investment funds and owners without management capabilities. The focus will be on offices, flex space and industrial real estate.
"We won't be doing hotels, we won't be doing multi-family and we're very unlikely to do retail," Sadler said. "Anything that looks and behaves like an office we're very good at, and we're barely smart enough to stick to our knitting."
In the fall of 2015, Allegiancy plans to shoot for another round of Regulation A+ fundraising, this time aiming as high as the $50 million annual limit. Sadler wants to use next year – and that $50 million – as a springboard to turn Allegiancy into a full-fledged publicly traded company, and he's targeting an IPO sometime in 2016.
Robert Kaplan Jr., a Richmond attorney with Kaplan Voekler Cunningham & Frank, who in recent years has published articles regarding Regulation A, estimated the new Regulation A+ rules will take effect early this fall.
Kaplan said higher fundraising limits and less state-by-state regulation means more firms may be ready to follow Allegiancy's lead into Regulation A+ public offerings, seeing the method as an alternative to bank funding or other avenues.
"This is huge, in my opinion, because we've seen in the last 15 years the public, SEC-listed marketplace has become consolidated and consolidated and consolidated to where it's a very small window of companies that can end up being a publicly traded company," he said.