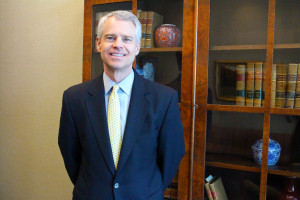 Calvin "Woody" Fowler says he didn't set out to become the CEO of a big law firm.
He started his legal career as a clerk in Richmond while attending law school at the University of Virginia. Today, the 53-year-old oversees more than 230 attorneys in 11 offices as the newly appointed CEO of locally based Williams Mullen.
Fowler took the helm April 1, and since then, the 103-year-old firm announced an expansion into Columbia, South Carolina. Now it has a presence in three states and Washington, D.C.
That move was only the latest in a slew of changes to Richmond's legal market. Some firms are expanding on the West Coast, smaller firms have been gaining momentum or moving in, and others have snagged some new real estate.
Fowler says firms will have to continue making even more changes in response to an increasingly demanding legal world.
BizSense caught up with Fowler to talk about his new position, the Richmond legal market and what major challenges law firms like Williams Mullen are now tackling.
Richmond BizSense: How long have you been in Richmond?
Woody Fowler: I was born here but I didn't grow up here. I've been here for a little over 27 years.
RBS: What brought you back to Richmond?
WF: I had clerked here at Browder Russell and Mays & Valentine, now Troutman Sanders – that was my first year in law school. My second year in law school I clerked for a firm in Atlanta and then came back to Browder Russell and just decided that that's where I wanted to be, I really liked this city and really liked the law firm.
RBS: What was your professional background before you took over this position?
WF: I started practicing as an associate like everybody else, moved over here to Williams Mullen, moved up to be a partner in the firm, had my own little litigation group, had a bigger litigation group, then eventually I became head of litigation group of Richmond. Then as we merged and expanded into other areas, eventually I became the chair of the firm's litigation group and did that for 11 years, and then over the last year and a half I had a position called the practice group chair, which meant that all of the other sections in the firm – corporate, real estate – all of those reported to me, while I was still running the litigation section. So that was kind of the lead up training to moving into the position of CEO.
RBS: So did you always aspire to rise to this position in the firm? Or what led to take the job?
WF: No – I felt like it was the right time for me, it was the right time for the firm. I had gotten so into the management side of things I felt like I was prepared to do it. I've always aspired to be really good at what I do. I've always aspired to be part of a really successful team. I didn't necessarily aspire to be CEO, but that was sort of the next step for me in terms of what I felt I could give to Williams Mullen.
RBS: Describe your daily routine as a CEO.
WF: I get up at around 5. Some mornings I get exercise before I get to work, sometimes after work, but I'm usually at my desk between 6 and 7. And some days are almost all management, some days are almost all practicing law. But usually there's a mix of the two. Most of that depends on if we are in a heavy management part of the year, such as during the compensation process, or doing strategic planning, in which case I do a lot more of the management side. Or it might be like it's been for the past couple weeks with the Sweetbriar case going on. I've been doing mostly the practice of law.
RBS: You do still handle cases and work with clients, then?
WF: Oh, absolutely. I really like practicing law, I really like being a litigator, and I'm not going to give that up.
RBS: You are almost 15 years younger than your predecessor, Thomas Frantz. How do you think that relative youth will impact the position?
WF: I'm the next generation in the firm. Most law firms have an increasing number of senior attorneys, and we have a lot of good senior attorneys, but a lot of them will probably be moving over the next five or 10 years toward retirement, including folks in Tom's age group. And I think Tom recognized that and knew that it was time to start getting the next generation of leaders in. So, me being 53, the other folks we have in leadership are all in their 50s or 40s, too. I think the firm recognized that it was time to get this next group of people who are looking at the firm with not a three- to five-year time frame, but with a 10- to 20-year time frame. And that's the people who are in their 50s and 40s. We really need to be looking toward what the future holds.
RBS: Do you have any big plans to shake things up here?
WF: We're in the midst of our strategic planning process right now. I think there are two big focus points for us. Well, maybe three.
One, we are really committed to our geographic footprint. We run now, purely geographically, from D.C. to Columbia, South Carolina. But really that has us doing work from Maryland to South Carolina, and whereas we do work in other places, a majority of work is in our footprint, and we are committed to being a really top tier firm in that footprint, so that's one thing.
The next thing is, we have some bread-and-butter practices. They are the core practices that have always been the core practices at Williams Mullen. It's the corporate, it's the banking, it's the litigation and it's the real estate. Those will have to continue to be really important practice groups for us, and we are intent on making them as strong as we possibly can, adding depth, and adding expertise in those areas. That will continue to make us a very good and very competitive firm.
What we think will let us take the next step, to even move up in the hierarchy of firms, is the niche practices, the practices that are more cutting-edge. Privacy and cybersecurity, government investigations, higher-education law, state lobbying. I mean, there are a number of things. The tax work we do, too, particularly the historic tax credit work we do, where I feel like we're better than just about anybody. Those are the places where I think we have the expertise that most firms our size and most firms in our regional footprint don't have. So we are going to continue to build on those because we feel like those can really set us apart from other firms. We're looking for things that will set us apart and differentiate us from other firms.
RBS: What percentage of the firm's work or cases is in the Richmond market, and how does that compare to your other markets?
WF: The Richmond office is our biggest office. Probably half the lawyers in the firm are located in Richmond. So it's critical, just based on numbers, that Richmond be successful. We need to be really successful in Richmond, we need to be really successful in Hampton Roads, we need to be really successful in Raleigh. Those are our three biggest markets right now. Do we want to have growth in our other markets, particularly Tysons and D.C.? Yes, we do, but we have to do well in our three biggest markets.
RBS: Do you feel Richmond has a vibrant legal atmosphere?
WF: You know, it's interesting – Richmond is an incredibly unusual legal market. You will not find another city in the U.S., I don't think, that is our size and has as many big firms as we have that are based here. You take Hunton & Williams, McGuireWoods, you take us, LeClairRyan, of course Troutman has a big presence here, too. So, there are a ton of lawyers in this market. It's a really good legal market, but with all those lawyers, there's not enough work just in Richmond. So I think all the firms draw work from outside Richmond and outside this regional footprint.
RBS: How have you seen the legal world as a whole change since you joined it?
WF: The legal world stayed pretty much the same until the recession. And then things changed. It became more competitive for work. There were more pricing pressures in terms of the rate structure that you can charge clients. I think all law firms have hired fewer people, which has had an impact on law schools and students coming out of law school. We've been more careful with our hiring, we've watched our costs more carefully.
I think going forward, clients will continue to expect more from law firms, better value from law firms, which again, it makes it, I don't want to say a harder environment, but it makes it a very competitive environment. You have to be at the top of your game all the time. Your service has to be really good, because if your service is not good, there's another law firm waiting to take your client.
RBS: Could you summarize the biggest challenges that Williams Mullen is going to face in the future, and how it's going to meet those challenges?
WF: I think the biggest challenge is going to be predicting and then keeping up with the changes in the legal profession. And that's going to mean that you'd better have smart people, carefully thinking about and monitoring what's going on in the world, and making sure that you do everything you can to stay ahead of the curve so that you're not just reacting to changes or reacting to client demands, but being able to reasonably predict what's going to happen so you have things ready for clients, maybe even before they know they need it.
That's going to be really challenging. And that's why we are in the process now of doing a new strategic plan that's going to look at geographically where we are going to focus, the practice areas where we're going to focus, the technology we're going to focus on – those are the things that we really need to make sure that we're on top of.