The Martin Agency has created its first campaign for cracker-maker Ritz since gaining the business late last year. The "Life's Rich" campaign and brand platform feature a 30-second TV spot that launched this month. A print campaign is set to launch in May.
The agency launched its latest installment of Geico's "It's What You Do" campaign. The 30-second spot features cartoon character Dora the Explorer.
Free Agents Marketing received two awards at this year's Telly Awards: a first-place Silver Telly for its Washington Redskins "Fandemonium" commercial and a second-place Bronze Telly for its "Big Believers in Small Business" TV spot for community bank EVB.
The agency also picked up several awards from the Virginia Bankers Association and the Service Industry Advertising Awards for its work on EVB's brand handbook and POWER (Potential of Women Entrepreneurs Realized) campaign. The firm received five awards from the bankers association, including a best-in-show award, and two awards from the SIAA, including one gold award.
The brand that Free Agents developed was centered on the tagline "Big Believers in You." The campaign includes social media, a regional public relations campaign, website design, and radio, print, outdoor and display advertising.
Neathawk Dubuque & Packett (ND&P) will handle advertising and media for the Virginia Museum of Fine Arts' upcoming exhibit, "Japanese Tattoo: Perseverance, Art and Tradition." The exhibit runs May 30-Sept. 27. ND&P is partnering in the effort with local firms Alice Blue and ideaspring.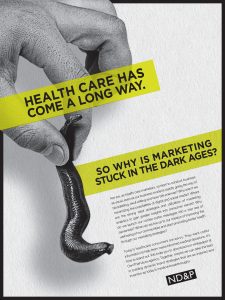 The exhibit is the first for VMFA featuring the art of tattoo and is the first advertising campaign ND&P has created for the museum.
ND&P also developed an ad for VCU Medical Center that ran in Our Health magazine in January, an agency self-promo that ran last year and is running again in May in Healthcare Marketing Report, an ad for Universal Fibers to run in May's Floor Focus Magazine, and a campaign for RIDE Solutions in Roanoke.
The agency won four awards at this year's Richmond Show, the annual awards show of the Richmond Ad Club. The agency won two silver awards and two bronze awards in self-promotion categories.
Randall Branding Agency has added five employees and 15 new clients in the past six months. The agency attributes the increase in business to its addition of an in-house web developer. The firm now totals seven employees serving more than 60 active clients, including PartnerMD, Atlantic Constructors and Lifestyle Home Builders.
Recent additions to the firm have included Regina Battle as web developer, Megan Chandler as art director and graphic designer, Sammy Santosh as project manager and Brandon Robertson as graphic designer.
Big River has been selected by the Eagle Cos. to conduct research and provide strategic branding. The agency will also be conducting consumer research and branding efforts for the Eagle Cos.' new development community, GreenGate. The Eagle Cos. include Eagle Construction, Markel | Eagle, Eagle Commercial Construction, NAI Eagle and Eagle Realty.
West Cary Group was recognized at this year's Telly Awards, picking up two awards for commercials the firm created for Union Bank & Trust's "Happy Place" campaign. The ads have been running on network and cable television in Virginia markets since May 2014.
West Cary Group is in the creative development stage for a new set of Union commercials expected to air on network and cable television during the second quarter of 2015.
The King Agency was selected as agency of record by McGeorge Toyota. The agency will handle creative advertising duties, including development of a new advertising campaign to evolve the dealership's brand messaging. Its tagline, "We Earn Your Trust Every Day," was created by the agency in 2012.
The campaign will utilize TV, radio, outdoor advertising, sponsorships and digital efforts. "Field of Trust (Anthem)," the first TV spot in the campaign, began airing earlier this month.
The King Agency won five awards at this year's Telly Awards. The agency won bronze awards for its TV spots for Metro Richmond Crime Stoppers, Smile Frederick Orthodontics and three spots – here, here and here – for Virginia Family Dentistry.
Circle S studio has been hired by A M King, a Charlotte-based commercial construction design-build firm, for a branding discovery project. The agency was also hired by HarbourVest Partners, a Boston-based private equity investment firm, to conduct a branding refresh and to design and develop a website.
Other clients include DAS, a Richmond-based document management company; real estate firm Commonwealth Commercial, for which circle S developed a new logo, brand and website; and the Society of Marketing Professional Services Boston chapter, which received a new website.
The Studio Center is preparing to open its next location in Washington, D.C. Studio Center Entertainment has eight pitches out to networks for unscripted series work.
A for Adventure has picked up multiple branding, marketing and design projects with Waukeshaw Development, a Petersburg-based revitalization firm. The projects are for the firm's Cape Charles Lofts, Studio 219 and The Bosco apartments.
The agency also won eight awards in the Greater Richmond Awards for Design Excellence Grade 8 competition, including a judges' choice and two best-in-category awards for its work with the Richmond Spoke & Hop Fest and Pratham USA. The Spoke & Hop Fest work also won a bronze cannonball at this year's Richmond Show, the annual awards show of the Richmond Ad Club.
Commonwealth Partnerships will develop and produce video testimonials for each of Commonwealth Assisted Living's 20 senior living communities. The videos will be incorporated into the company's marketing efforts and will be available on its website and social media platforms.
The agency will also lead a rebranding effort, including messaging, logo enhancement and new collateral materials, for the Hampton Roads Association for Commercial Real Estate. And the Home Building Association of Richmond has engaged the agency to handle public relations and a social media campaign for its 64th annual Parade of Homes.