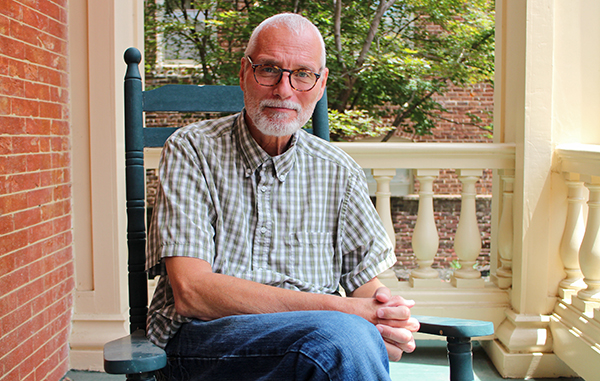 For Terry Taylor, branding is about stories.
So much so that when he and business partner Dee Briggs left local ad firm Big River to start their own agency last fall, they called their new shop StoryWerks.
The approach is evident in its latest campaign for the Virginia Lottery, Summer Jam – a collection of videos and constantly changing content that's aggregated on a website and supplements the lottery's same-named scratch game.
Promoted through radio spots and music-related websites, the site features concerts sponsored by the lottery, special offers and contests, and videos highlighting three musical acts with ties to Virginia: Carbon Leaf, Anhayla and Jukebox the Ghost.
Taylor describes the site as representative of a shift in branding and advertising: a multimedia approach that builds relationships with the audience and makes them part of the experience, as opposed to just trying to sell a product.
BizSense sat down with Taylor, Richmond's Ad Person of the Year for 2012, to discuss that approach and the perspective he has gained from three decades in the industry. Below is an edited transcript:
Richmond BizSense: Tell us about the approach you took to create Summer Jam.
Terry Taylor: We try to take a cultural approach to everything we're doing. If something you do influences culture, and what you do is influenced by culture, then it's a lot more powerful for people out there. When people feel like it's not just some gimmicky ad that's trying to sell you something but it's actually an experience that they're providing that you can be a part of, and that's what Summer Jam really was.
It used a cultural theme of music, and everybody loves music. The old saying is you remember about half of what you see, probably none of what you hear, but you remember everything about how you feel, and music makes you feel something.
RBS: How did Summer Jam develop as a creative concept?
TT: The lottery gives us a mandate to be proactive and come up with ideas, so we came up with this and took it to them as an idea for what they could do for the summer, because they usually do a big summer campaign. We thought, 'What can we do that's more relevant to people's lives in the summer?' There's a lot of concerts; people listen to a lot more music seemingly in the summer: they're out doing things, they're at the beach, they're at concerts, they're at barbecues.
We worked with Co+Lab on building the actual site, and all the other partners that are out there that have bits and pieces of the account. We needed a site to be the hub for all this content we're going to have. We created 50 videos in a couple weeks and 14 radio spots that push it, and there's a ton of digital that's out there, on Pandora and Spotify and all kinds of places, that's pushing the music aspect of it and the lottery's connection to that.
We went and found three bands, either Virginia-based or Virginia-connected. Carbon Leaf obviously has a huge Virginia presence. And Anhayla – I won't call her an unknown artist from Norfolk, because she has 9 million views on YouTube. And Jukebox the Ghost – Tommy (Siegel) from Jukebox is from Richmond. We did music videos for them for several of their songs; we did a lot of backstories for them so that you could find out how they started, how they got they name, what they do on the road. You've got the bands being evangelists for your brand and your campaign, and so you've got a lot of people coming in a lot of doors.
RBS: You worked at Chiat\Day in Los Angeles, BBDO in Dallas, Ogilvy & Mather in New York. What are some of the insights you've picked up along the way?
TT: All ad agencies are trying to not be ad agencies now. They'd rather be anything but; it's sort of like an ugly word or something. There are so many social platforms that you are responsible to now, because they're your customers' and they own those platforms. It's shifting everybody's world now. And (the audience) gets to talk back, which is the huge shift in branding these days. You can say whatever you like, but there's one of you saying it, and there's a million-and-something of them saying it, whatever they want you to feel about it.
RBS: Was there a moment you can pinpoint when you realized the old way wasn't working, that there needed to be more to advertising and branding?
TT: It was probably in the early '90s, when digital really started blowing up and a lot of agencies didn't know what to do with it. There were digital companies and digital ad agencies and regular ad agencies, and the regular ad agencies suffered because everyone was going to digital. It wasn't the suffering; it was really more of me, in my life, realizing, 'I'm doing this. I'm changing.' And every time you start changing the way you do things, then you feel like, 'OK, I want to go find some way to make this fit into what I do every day.'
You've always got to be chasing what's next. That's the world that I live in with branding and that we try to make kind of our mantra: It's about right now. I think that that's what makes branding work: what's relevant to me right now. And that's where you have to make that connection to people.
RBS: If you could ask one person any question, whom and what would you ask?
TT: Elon Musk. I would ask him what kind of drive does it take to personally put your fortune on the line, to believe in the kind of change that you're inventing for all of us. A lot of people are happy to put their investors' money on the line or somebody else's, but this guy is personally putting himself on the line for SpaceX, for his Solar City, for his Tesla Powerwall.
Honestly, I'd like to ask him, 'What's next?' What is he going to change next? It's a little like how Richard Branson and those guys view things – it's like that first guy on the beach: what prompts you to leave everybody on the boat and say, 'Let's go see what's over there.' That kind of change is invigorating. And I think that's what's happening in Richmond.