It's year three for Generosity Inc., BizSense's annual rankings of Richmond's top corporate donors.
And as we have the last two years, we're again making the call to encourage as many local companies as possible to help us paint a complete picture of RVA's philanthropic side.
Beginning this month and over the next few weeks, BizSense will be circulating a survey to all businesses in the area to build a list of dozens of companies and their total donations from last year. Both locally based and out-of-town firms with local operations are eligible to participate.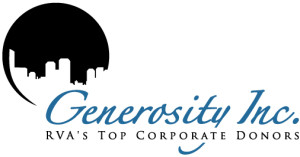 The list has grown bigger and better each year, with dozens of companies and millions of dollars of donations represented last year. Participants include Fortune 500s, local banks, law firms, grocery chains and small- and medium-sized firms giving to a variety of causes.
Now here's our call to action: Whether you're a company that's proud to publicly display its generosity or one that prefers to give quietly, your participation in this list is vital in helping us shine a light on the businesses that help maintain the health of Richmond's nonprofits.
If you're the big boss at a company, make sure you and your employees aren't left out. If you're the person in charge of a company's giving programs, don't let your competitors outshine you. If you're a local nonprofit that's proud of the support you receive from local businesses, please encourage them to help us make this year's list the best one yet.
We'll publish the list on April 4 and then honor the donors at a lively event later that month. The deadline for list entries is April 1. More details on the event will be available in the coming weeks.
And to make it easier on you to participate, if your company previously participated in any of the BizSense Lists over the last few years, there's no need to fill out an entire new survey for Generosity. Our researcher has already sent you a link for the necessary information.
If you have not been on a BizSense List in the past, please follow this link to have someone from your firm complete the brief survey.
Please direct any questions to [email protected] or email me at [email protected]