A local staffing company and a real estate firm are bringing more business to Richmond's sudsiest neighborhood.
Daybreak IT Solutions, a seven-year-old IT staffing company, and real estate team The RVA Group signed leases this month for two of the units in the forthcoming 26,000-square-foot Gather building at 2930 W. Broad St.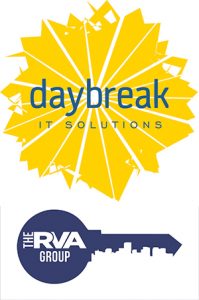 The companies won't be tenants in Gather's coworking space, which will take up about two-thirds of the property. Rather, they are taking over two of the building's remaining three separate commercial storefronts.
Sonny Gupta, who owns Daybreak along with founder Vinnie Wright, said the move from the company's current Westhampton office at 5707 Grove Ave. was prompted by Daybreak's need for space to offer IT certification training classes and its building coming under new ownership last year.
"There was some uncertainty about the future in that space," Gupta said, adding the company was looking for a long-term home. "We took that as an opportunity. The idea of being in Scott's Addition was really appealing."
Gupta, 40, said four people from Daybreak will use the company's new 1,200-square-foot office along Altamont Avenue. Daybreak currently has about 36 IT consultants on its payroll. It specializes in connecting web specialists with companies needing extra help.
Daybreak is an approved vendor for companies such as Genworth, as well as the Commonwealth of Virginia. Gupta said in 2015 the company worked with 18 different firms and placed 39 people. In addition providing workers to help with projects in progress, Daybreak is looking to make inroads doing project consulting, which entails building entire web applications.
"We know the Richmond market," Gupta said, adding that the company is still honing its focus. "We're only seven years old. We still have a lot to learn."
Gupta said being on the ground in Richmond gives Daybreak an advantage over the company's bigger competitors like Aerotek and Computer Resource Team. And Daybreak has plenty of local competitors including Fahrenheit IT, Apex Systems and Techead.
Another reason Daybreak wanted to be at 2930 W. Broad St. is the property's access to a 75-space parking lot – a rare amenity in Scott's Addition.
In addition to Gather and the coworking tenants it will attract, Daybreak's other neighbors in its new building include Three Notch'd Brewing Co. and The Dog Wagon hot dog shop, both of which signed leases earlier this year.
They'll all be joined by The RVA Group, a team of residential real estate agents and property managers with Exit First Realty that will occupy a small portion of the building.
Brian Hall, owner of The RVA Group, said his company is moving to a 1,405-square-foot space in the building and is vacating a 1,150-square-foot space at 5300 Hickory Park Drive in Henrico County.
Hall, 40, said the move to Scott's Addition was less about getting away from the environs of Short Pump and more about joining the growing neighborhood.
"The city vibe is what I was searching for," he said. "Scott's Addition was my number one target. I've been in love with the architecture of Scott's Addition since before I had my driver's license."
Jason Guillot, a broker with Cushman & Wakefield | Thalhimer, represented RVA Group in its lease.
Hall said seven people will be based out of The RVA Group's new office. He said that in 2015 the company sold more than $14 million in residential real estate sales in the Richmond market.
Scott's Addition's latest office deals will add some more variety to the usage in the neighborhood where breweries and redeveloped apartments abound. And while Scott's Addition and other neighborhoods in the city limits get a lot of buzz as hot spots, they still lag behind behind the suburbs – particularly the Innsbrook and Short Pump area – in terms of office deals.
According to a CBRE | Richmond report, in the first quarter of 2016 Richmond's northwest quadrant had 61,985 square feet of office space absorption. The city, with its higher asking rates, had 42,882 square feet of net office space absorption in the same period. Absorption is calculated by tallying the difference between how much space gets occupied and how much is vacated in a given period and can be considered an indicator, though not a perfect one, of demand, Andrew Cook, CBRE | Richmond's director of research, said.
Will Bradley, a CBRE | Richmond broker who handles office deals, said comparing Scott's Addition to Innsbrook isn't really fair because the two cater to different users.
"It's a little bit apples to oranges," Bradley said, adding that both markets are strong. "Innsbrook blows Scott's Addition out of the water in terms of demand. For what Scott's Addition is, it has strong demand from creative office users."
Birck Turnbull of Cushman & Wakefield | Thalhimer is partner in High Summit Holdings, which owns 2930 W. Broad St. along with Gather. He said a 2,400-square-foot section is the last vacant space in the building and that a handful of office and retail tenants have come calling.